Ingredients:
1/2 cup soaked raw cashews or slightly less raw sunflower kernels

3/4 cup low fat canned coconut milk or soy milk

1 1/2 T apple cider vinegar

1 tsp onion powder

1/2 tsp. garlic powder

1/8 tsp. celery seed

1/2 tsp. dried dill, plus extra for garnish

1/4 tsp. dry mustard spice

3/4 tsp. fine sea salt
Directions: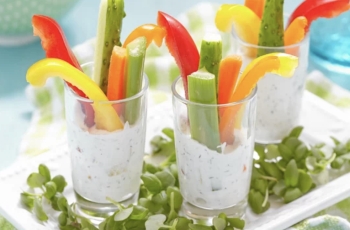 Soak cashews or sunflower kernels for 8 hours, then drain. Add all ingredients to a high-powered blender. Start out with just 3/4 cup milk. Be sure you have mixed the coconut milk well beforehand (shake can before opening). Blend on high for a couple of minutes. Add extra milk if you want it thinner. Place in a container and put in the refrigerator for an hour or two to let it marinate and thicken. Flavor improves after chilling.
Variations:
For a nutritional-boost, I add in 1/8 tsp. of the green

E3 Total Body Blend

and/or cyan-color

Blue Majik

. I do this almost every time I make this dressing that I use on salads and also as a dip and sandwich spread.

I often add in fresh lime or lemon juice.

It's also wonderful blending in some avocado, cilantro and/or parsley.

For a thinner dressing increase coconut milk to 1 cup.

You may substitute the coconut milk with soy milk.

For more garlic flavor, increase garlic powder to 1 tsp.

For more celery flavor, increase celery seed to 1/4 tsp.
Never confuse a single defeat with a final defeat.
~ F. Scott Fitzgerald
If you can't explain it simply, you don't understand it well enough.
~ Albert Einstein
Never give up on something that you can't go a day without thinking about.
~ Winston Churchill
Gratitude can transform run-of-the-mill days into delightful days, turn routine jobs into great pleasure, and change ordinary opportunities into blessings and miracles.
~ Excerpt from UPLIFTED: 12 Minutes to More Joy, Faith, Peace, Kindness & Vitality