Ginger & Blue Majik Bliss Balls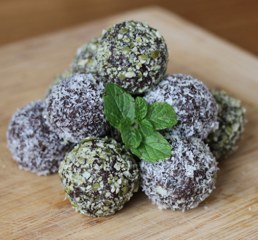 These energy-packed snack balls are the perfect pick-me-up before hitting the gym. Even kids love these so you might want to double or triple the batch. Makes 12
Ingredients:
1 cup macadamia nuts
½ cup pistachios
1 teaspoon fresh ginger, finely grated
½ teaspoon
Blue Majik
powder
6 Medjool dates
Directions:
Blend all ingredients in a food processor until smooth. Roll into balls and set in the fridge for at least 30 minutes before serving. 
Variations:
I like to roll the balls into shredded coconut or even finely ground pistachios. The sky's the limit with what you can add to the inside or outside of these nutritious bliss balls. I also like to finely chop up some mint to add to these balls or put in a drop of pure mint extract.

To order ORGANIC BLUE MAJIK (aka: Blue Magic) in powder and/or capsule form, please click HERE. To order by telephone, simply call: 888-800-7070 (US & Canada) or 541-273-2212 (Intl), both PT, M - F • 8 - 4. Ask any questions you have about their products and how many bottles to order.
I love mixing the BLUE MAJIK powder into a clear glass of freshly made alkaline water. It's the most beautiful blue/cyan color ever. Drinking this blue elixir beverage daily is detoxifying, rejuvenating, and invigorating. It will enhance your health in countless ways.