Total Time: 20 minutes
Servings: 4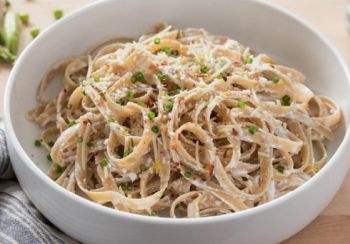 This simple, spectacular lemony pasta takes just 20 minutes to prepare. If you are a vegan, you can substitute in dairy-free versions of ricotta and Parmesan cheeses. I also sometimes substitute Soba Noodles for the Whole Wheat Linguine and use Brown Rice or Spinach Linguine.
Ingredients
1 16-ounce package whole wheat linguine
1 1/2 cup part-skim ricotta cheese
1/2 cup reserved pasta water
2 tablespoons chopped fresh garlic
2 tablespoons lemon zest
2 tablespoons lemon juice
1/2 teaspoon red pepper flakes
1/2 teaspoon sea salt
2/3 cup grated Parmesan
1/2 cup chopped chives
Preparation
Cook pasta al dente in salted water according to package directions. Reserve 1/2 cup of the pasta cooking water, and drain the linguine in a colander, shaking to remove any excess water.
Mix the ricotta, reserved pasta liquid, garlic, lemon juice, lemon zest, red pepper flakes and salt in a serving bowl. Toss with the warm pasta, top with grated Parmesan and chives. Serve immediately.
Serving Suggestion
Create your own variations on this quick weeknight meal. Sauté asparagus, red onions and snap peas and toss with pasta and sauce. Or top sautéed julienned zucchini strips with the ricotta and lemon sauce, for a gluten-free dish. (After putting in the serving bowl, I often sprinkle some Blue Majik on the top for the beautiful cyan color and to boost the nutritional value.)
Nutritional Information
390 calories, 13 g. fat, 95 mg. cholesterol, 250 mg. sodium, 47 g. carbohydrate, 1 g. fiber, 20 g. protein