Delicious Guacamole with Blue Majik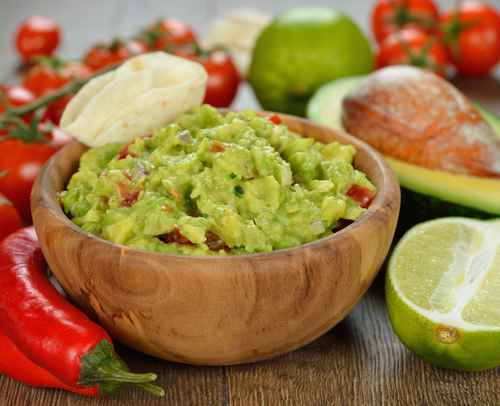 Who doesn't love delicious guacamole? It's so versatile and can be used as a dip, salad dressing, sandwich spread, baked potato topper, etc. It is really divine. Here's an easy, fool-proof recipe and I've added in
Blue Majik
powder to make it even more nutritious.
Time: 10 minutes
Yield: Between 2 1/2 - 3 cups
Ingredients:
2 ripe Hass avocados (in the restaurant, they use 48 per batch, multiple times per day)
2 tsp. lime juice
2 tbsp. cilantro (chopped)
1/4 cup red onion (finely chopped)
1/2 jalapeño, including seeds (finely chopped)
1/4 tsp kosher salt 
Directions: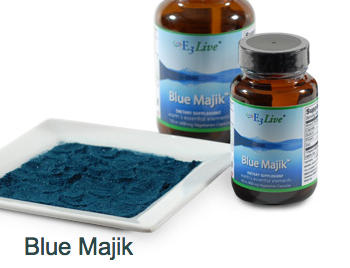 1. Choose the right avocado. It should feel squishy yet firm (like the palm of your hand), and be a nice dark green color on the inside.
2. Cut the avocado in half and the remove the pit (carefully!)
3. Scoop the avocados and place in a medium bowl.
4. Toss and coat with lime juice.
5. Add the salt and using a fork or potato masher, mash until a smooth consistency is achieved.
6. Fold in the remaining ingredients and mix well, including the
AquaBotanical
Blue Majik
powder.
I usually start with only 1/4 to 1/2 tsp. and then add in more if desired. Sometimes I add up to 1 teaspoon. making it a much darker green color.
7. Taste the guacamole (over and over) and adjust seasoning if necessary.
Variations:
I like it best also adding in about 1/3 cup of diced tomato. If you like it hot, you can replace the jalapeño pepper with a small amount of diced red cayenne pepper, or even use both peppers, if you are very adventurous.

To order ORGANIC BLUE MAJIK (aka: Blue Magic) in powder and/or capsule form, please click HERE. To order by telephone, simply call: 888-800-7070 (US & Canada) or 541-273-2212 (Intl), both PT, M - F • 8 - 4. Ask any questions you have about their products and how many bottles to order.
I love mixing the BLUE MAJIK powder into a clear glass of freshly made alkaline water. It's the most beautiful blue/cyan color ever, as you can see from the photo above. Drinking this blue elixir beverage daily is detoxifying, rejuvenating, and invigorating. It will enhance your health in countless ways.