Nutty Berry Bites with E3Renew Me!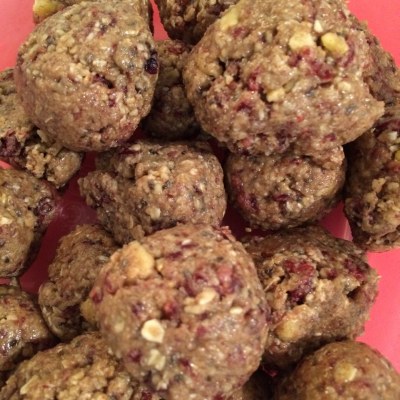 This is a very easy-to-prepare, scrumptious, and oh-so-nutritious recipe and all raw, too, if you get raw nut or seed butters. Kids love these Nutty Berry Bites, too.
Ingredients:
1/2 cup almonds
1/2 cup walnuts
1/2 cup cashews
1/4 cup oatmeal
1/2 cup hemp seeds
1 tbsp. chia seeds
1 tsp. E3Renew Me!
2 tbsp. cacao nibs
1 cup mixed dried berries (I used dried strawberries, cherries, blueberries and cranberries.)
1/4 to 1/2 cup sunflower seed butter (You could also use almond or peanut butter.­)
Directions:
Place nuts in food processor and mix until they are broken down into fine crumbles. Add oatmeal, hemp seeds and chia seeds and mix until blended. Add E3Renew Me! and mix until blended. Add cacao nibs, dried berries and sunflower seed butter and mix until it becomes a sticky ball; ­ start with 1/4 cup sunflower seed butter and add more if needed to make the dough stick. Roll into 1-inch balls. You can serve immediately or chill them in the fridge. These should keep for about a week in an airtight container. I often quadruple the recipe and freeze them in an airtight container. They last well for about 3-4 months in the freezer.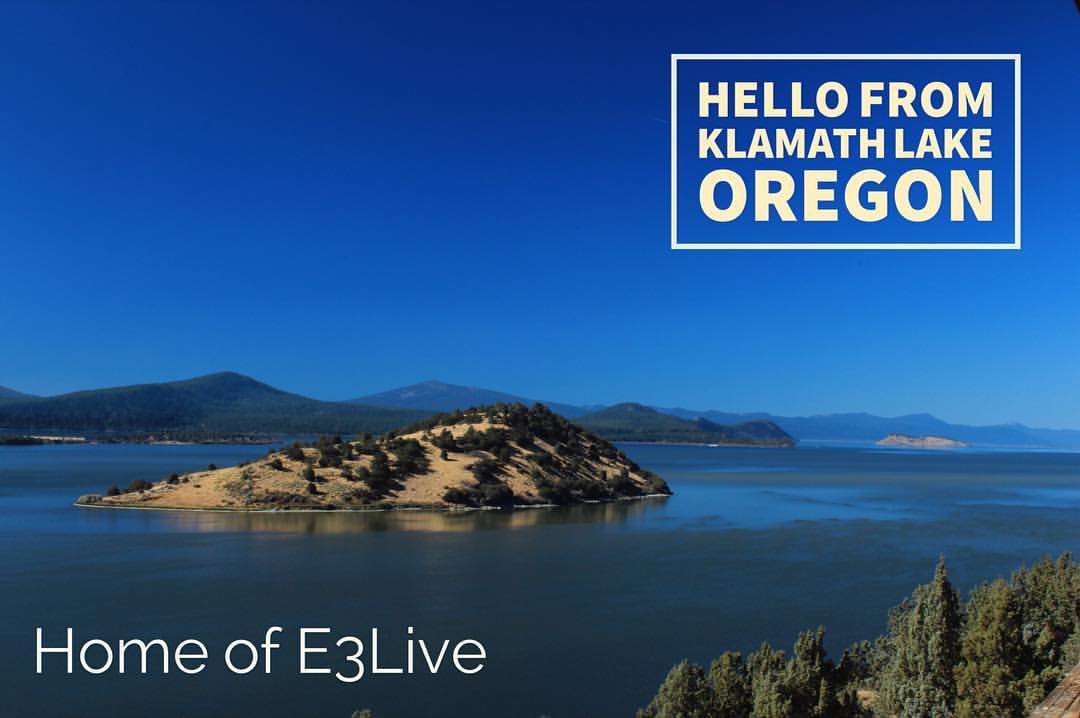 To order their organic Blue Majik (pure, natural AquaBotanical phycocyanin extract) in powder and/or capsule form, BrainOn, E3Renew Me!, E3Live, E3AFA, or any of the other superlative E3Live products (for beautiful skin and pets, too), please click HERE. To order by telephone, simply call: 888-800-7070 (US & Canada) or 541-273-2212 (Intl), both PT, M - F • 8 - 4. Ask any questions you have about their products and how many bottles to order.
I love mixing the powders or liquids into a clear glass of freshly made alkaline water. The Blue Majik is most beautiful blue/cyan color ever—close to the color of the sky in the photo here, where they harvest the product from the pristine Klamath Lake in Oregon. Drinking both Blue Majik elixir beverage daily or the BrainON,  E3AFA or E3Live is detoxifying, rejuvenating, and invigorating. It will enhance your health in countless ways.