Hello Friend,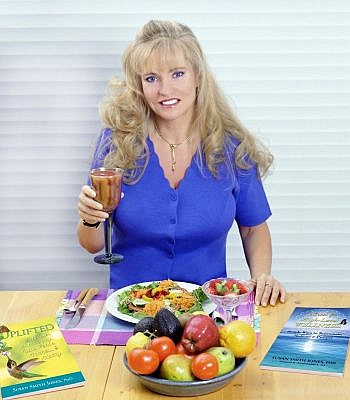 To listen to my radio interview on This Week in America with host Ric Bratton where I discuss The Healing Secrets in Your Spice Rack, please click HERE.
 
What a joy for me to share with you some of my favorite recipes. If this is the first page you are viewing on my website, and you don't know anything about me or my work, here's a brief summary as it relates to healthy foods and all-things-culinary. 
For 30 years, I have been a culinary instructor and have worked as a private chef, caterer, and instructor on how to create healthful, delicious meals. Some of my many workshops and seminars around the world are devoted to making natural-food meals, becoming a gourmet cook, and setting up a healthy kitchen and beautiful dining area. One of my specialties is taking the most natural, simple ingredients and creating a scrumptious meal or snack — and often in only a few minutes, too. Most us us don't have much time to spend in the kitchen. If you would like to learn about some of the kitchen gadgets that I wouldn't be without, please visit: Favorite Products.
I've divided these pages into three categories: healthy recipes, herbal recipes, and smoothie recipes. Check back every so often as new recipes will be added.
For those of you who want to learn about the healthiest food choices, the foods you should never consume, and a cornucopia of recipe suggestions from someone who loves all-things-culinary and creating magnificent meals, snacks, and kitchen environments, you've come the the right person and place.
Choose a recipe the list below.
Cheers,
Susan S. Jones