E3Live Nano Silver for High-Level Healing & Wellness
What is E3 NANO Silver?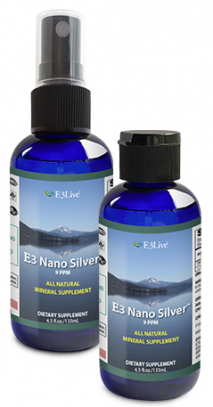 Every day I take at least one teaspoon of E3 Nano Silver in liquid form (it's tasteless) and spray it on my skin when needed. I wouldn't be without these salubrious products in my home's Natural Medicine Chest.
Scroll down to the bottom to find out how to order by telephone from anywhere in the world.
For more detailed information on Silver Therapy, the history of applications, the differences between Nano and Colloidal Silver and more, please click HERE.
Spanning well over 100 years of Colloidal Silver and Nano Silver research, countless laboratory tests have shown Nano Colloidal Selver to kill over 650 different disease-causing pathogens, viruses, bungus, bacteria, parasites and molds, typically most within six minutes of contact
Even Hippocrates, over 2400 years ago, the "father of medicine" wrote that silver had beneficial healing and anti-disease properties.
Over the last decade, tens of thousands have quietly abanconed thge use of prescription antibiotic and antipathogen drugs and have turned instead to the use of safe and effective Nano Colloidal Silver. In the United States alone, there are over 10 millions users of Silver products in one for or another, and I happily am one of these users. In fact, decades ago, I used to make my own silver products in my home, but now it's so much easier and less time consuming to simply purchase the products.
Here Are Just Some of the Many Benefits of Nano Silver
The reported applications for Nano Silver Therapy are huge.
Some of its many reported health applications I recommend in my private practice and I use personally are for . . .
acne

allergy

asthma

athlete's foot & jock itch

bad breath and oral irrigation devices

bladder infection

UTI

blisters

boils

bronchitis

burns

cellulitis

chickenpox

chronic fatigue syndrome/Epstein-Barr

cleansing

cold & flu virus

conjunctivitis

pink eye

eye infections

cataracts

Crohn's disease

cuts and 

scratches

dandruff

detox

ear infection

eczema

emphysema

fibromyalgia

food poisoning

ganglion cysts

geriatrics

gum, tooth and mouth infections

headache

hepatitis C

HIV/AIDS/ immune system

intestinal infection

kidney infections

lumps and growths

lungs

lupus

Lyme disease

moles

MRSA
VRSA

MS

cancer

arthritis

nail fungus

nausea

pneumonia

prostatitis

psoriasis

ringworm

rosacea

scars

shingles

sinus infection

skin conditions

skin tags

snoring & sleep apnea

sore throat

sores

spider bites

stomach flu

Norovirus

sunburn

swelling

upper respiratory infection

warts

wounds

yeast infection which is noted as a cause of many problems including Leaky Gut

viruses, including 

Covid-19 and all of its variants

E3 Nano Silver Is Always in My Home's Natural Medicine Chest

Silver nanoparticles are microscopic particles of silver measuring between 1 - 100 nanometers. These nanoparticles are given off by silver naturally and cause a self-sterilizing effect known as oligodynamic. This is what made silver an excellent choice for the original eating utensils verses the stainless steel "silver"ware we use today. When you eat with silver utensils you are eating silver nanoparticles.
• Jose Ruben Morones and team investigated the bactericidal (killing power) activity of silver nanoparticles and said this, "Our results indicate that the bactericidal properties of the nanoparticles are size dependent, since the only nanoparticles that present a direct interaction with the bacteria preferentially have a diameter of ~1–10 nm." E3 Nano Silver provides you with effective sized nanoparticles between 3 - 7 nanometers. 
• Higher concentrations of colloidal silver can lead to increasing risks for toxicity, therefore, you would want to look for a formula with a lower concentration or parts per million (ppm). E3 Nano Silver is 9 ppm and is safe and effective. It is gluten-free, non-gmo and kosher, too.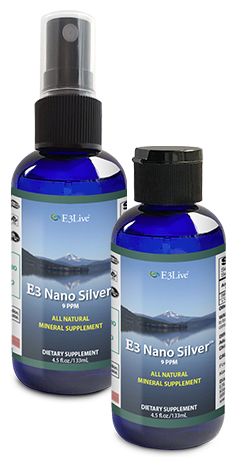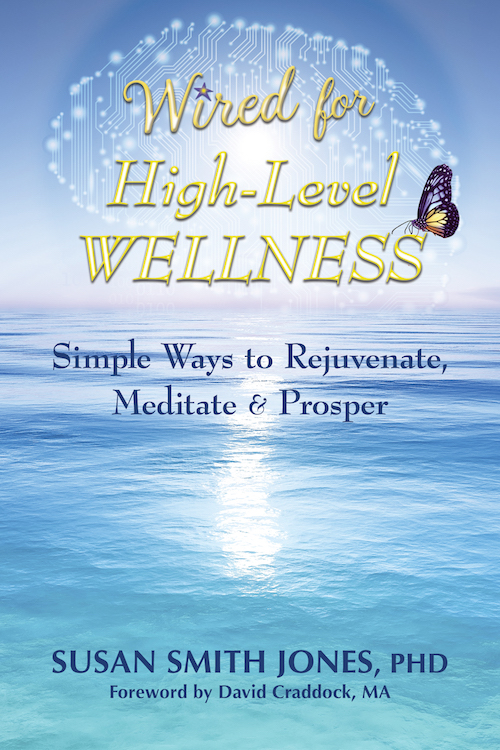 TO ORDER ONLINE NOW:
To order by telephone or ask questions,
call them directly: 
888-800-7070, M-F, 8-5, PT
541-273-2212 (International)
Tell them HELLO from Susan Smith Jones and ask them about any promotional discounts!
For information on some of my other favorite E3 Live nutritional products that I've taken for decades, such as BrainOn Supreme, Blue Majik, RenewMe!, E3 Probiotics and more, please click HERE.