Molecular Hydrogen Skin Beautifying MISTER
Lustrous, Dewy Skin, More Hydrated Lips & More...Naturally
Valuable Info on the NEW Vital Reaction MINI PORTABLE H2 Inhaler

+

How Hydrogen Therapy Helps Neurodegeneration, Dementia, Alzheimer's, Oxidative Stress & Inflammation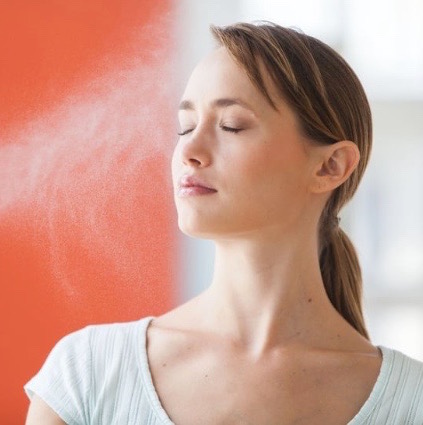 Every day I use the new skin MISTER by Vital Reaction. It's easy-breezy to use. Simply dissolve a tablet of Molecular Hydrogen in water, wait 90 seconds, fill the mister with the Hydrogen-rich water, and then enjoy the relaxing, soothing, gentle mist as it hydrates, heals, and rejuvenates your skin. I have been testing it for months on myself and with friends and clients and have been so eager to tell you about it.
The new Mister can be used at home, in the office, when traveling, and anywhere you wish. I always use it when I am flying, too, where the air in the jet's cabin is so dry. Once I fill the mister with the Hydrogen-rich water, I drink what's left in the glass. So I get two salubrious things done at once.
Here are only a few of the many benefits I've experienced personally and have also seen firsthand on many other people... and all ages — men and women and babies to mature seniors: fuller, more hydrated and plump lips;

softer, dewy skin; diminished facial wrinkles; faster wound healing (cuts, bruises); reduction in joint pain, great to soothe and heal burns, bug bites; etc.
I mist my entire face and neck area, the back of my hands and forearms, and any other skin area on my body with an issue such as sunburn, red or dark spots, age spots and more.
I have even seen it reduce my actinic kerotosis spots.  
Get FREE Shipping and a 20% discount with the discount promo code Susan20.
 
It's now p

art of my daily routine and also front and center in my home's natural medicine chest: I use it at home, in my office, and am never without it. I always keep one mister at home and another one in my tote bag. It's one of my favorite ways to keep my skin and lips youthful and my body healthy. Remember, your skin is the biggest organ of your body and this mister will help keep your skin healthy.
TABLETS: As mentioned, when traveling, I am never without my H2 Tablets and my Mister. I use the Inhaler in my home and office and even take it with me when traveling by car to different locations such as friends' homes, hotels, etc. My motivational presentations and radio and TV talk show media work take me around the country and across the globe as I enthusiastically talk about all aspects of holistic health and always include discussions on Molecular Hydrogen because this therapy is at the forefront of my healthy living program, and has made a profound, positive difference in my health and with countless others I know who use both the Inhaler and Tablets, and the Mister. Everywhere I go, it's so grati
fying to see people jumping on the bandwagon of this revolutionary, convenient high-level wellness therapy.
B

E

O

NE OF THE

F

IRST TO

G

ET THE

M

ISTER &

R

EAP THE

B

ENEFITS
It also makes a great gift for family members, friends, mothers, and caretakers.
VITAL REACTION
(720) 464-5733
Monday - Friday ♥ 8 - 5 MT
20% Discount and FREE Shipping with the
Discount Code: Susan20