Living on the Lighter Side
Price: $15.95 (Paperback),
$7.99 (Kindle)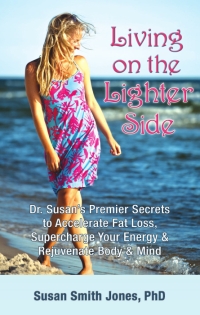 Length & Design Specs:

82 pages, full-color photographs
To see a Sampler of a few pages of the book, click HERE.



Below, you can choose from 3 formats to purchase this book.
Hello. I have created a total body/mind, easy-to-follow, reader-friendly weight loss program just for you! A comprehensive healthy eating and living resource and step-by-step slim-down guide, LIVING ON THE LIGHTER SIDE: Dr. Susan's Premier
Secrets to Accelerate Fat Loss, Supercharge Your Energy & Rejuvenate Body & Mind
is sure to appeal to anyone who is serious about shedding extra pounds, firming up, and taking years off both their looks and their outlook. As a personal growth coach and motivator extraordinaire, I have worked in the fields of anti-aging and longevity, optimum wellness, natural remedies, and human potential for decades. This definitive, concise volume is the culmination of more than 30 years of teaching at UCLA, ongoing research, and personal experience working with thousands of clients worldwide.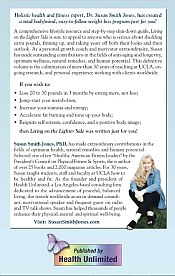 To listen to an interview with Susan and talk show host Nick Lawrence discussing many subjects in this book Living on the Lighter Side, please click HERE.
There is a special chapter on the healing power of raw foods, how they benefit the body, and how you can use some specific foods to lose weight, boost energy, sleep like a baby, reshape your body, reduce and eliminate joint aches and pains, bolster immunity, and more. I demystify the difference between raw foods and living foods, and how you can shed all the extra weight on your body in record breaking time. In this section of the book, you will also find out about my 3-day to 3-week detox, cleanse, and rejuvenation program.
If you wish to:
Lose 20-30 pounds in 3 months by eating more;
Jump-start your metabolism;
Increase your stamina and energy;
Know which exercises help to reshape the body;
Understand the role of sleep for a fit body;
Learn the best secret weapons to success;
Use calorie density and grazing for more energy;
Enjoy the best snacks for maximum results;
Accelerate fat burning and tone up your body;
Reignite self-esteem, confidence, and a positive body image;
then Living on the Lighter Side was written just for you!
You can choose between 3 different formats when purchasing this book:
You can easily purchase this reader-friendly, life-changing book in a variety of formats such as. . . 
1. A Kindle format to read on any device — Buy on Amazon
2. In a full color, printed book format that will be delivered to your address through Amazon —
3. SPECIAL LIMITED EDITION

Invest in Yourself with Exercise is also available in a beautiful, deluxe "SPECIAL LIMITED EDITION" printed book format with a scored hinge along the spine and gloss lamination on the pages and cover that makes this an impressive gift for you and your loved ones, which will be delivered to the address of your choice.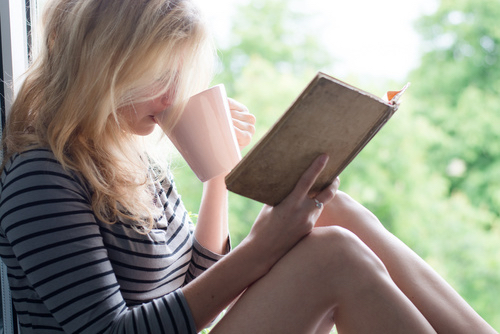 Each copy of the SPECIAL LIMITED EDITION book will be personally autographed by yours truly (Susan) to you or to any of your friends or family members, and each book comes with a beautiful notecard to you from me and lovely ribbon bookmark. Just give me the name(s) for each personal autograph.
The cost for this SPECIAL LIMITED EDITION autographed book is $50.00 for each book. This includes Shipping & Handling, if the address is within the USA. Add an additional $25, if the book needs to be sent outside the USA, anywhere else in the world.
Send the name of the book along with your payment (Cashier's Check or Money Orders ONLY in US Funds—always available at your bank) to: Health Unlimited, P.O. Box 49215, Los Angeles, CA 90049, attn. Book Manager. All books are sent with loving gratitude and best wishes to you and the other recipients on your list. Remember, the gift of health is the best gift you can give yourself and others.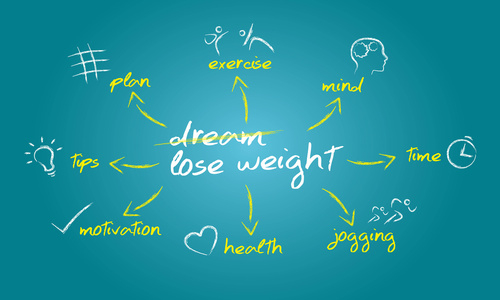 If you have family members or friends who are in need of the best support for shedding extra pounds, this book makes a splendid gift, too. Through the pages of LIVING ON THE LIGHTER SIDE, it will feel like I am your new, personal holistic lifestyle coach. Step-by-step, I will take you from where you are right now with your current body image and level of health to the very best fitness and vitality of your life. You've put this off long enough. Now is the time to choose the best for you. And choosing this book for yourself and for others dear to you is a positive step in the right direction -- towards your dream of loving the body you live in and celebrating yourself and life with enthusiasm and gusto.