Subscribe & Win!
Four Free Health-Enhancing E-Books & Other Surprises from Susan

Conscious Cuisine • Detoxify & Rejuvenate • The Curative Kitchen • Nature's Superb Superfoods
PLUS — Quick Reference Botanical Guide for Common Ailments

HOW TO GET THIS GIFT PACKAGE: Go to the bottom of this page and fill out the simple form! Download links will be included in your confirmation email.
Free E-Book #1: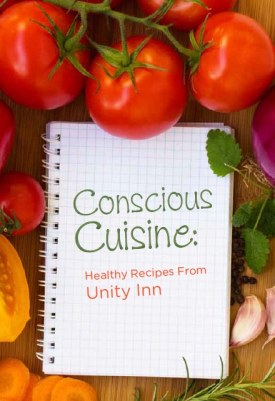 This internationally popular cookbook, Conscious Cuisine, includes positive affirmations; delicious, nutritious recipes by Michael Willet, the Chef at Unity Village; and Susan's sage nutritional guidance on the superfoods used in the recipes. The full color photos of the recipes will have you salivating at first glance. And the uplifting affirmations and quotes from the Bible on food will inspire you to take better care of your body and health. You'll enjoy this unique, beautifully designed cookbook year-round and will want to share it with your family and friends. Bon Appétit!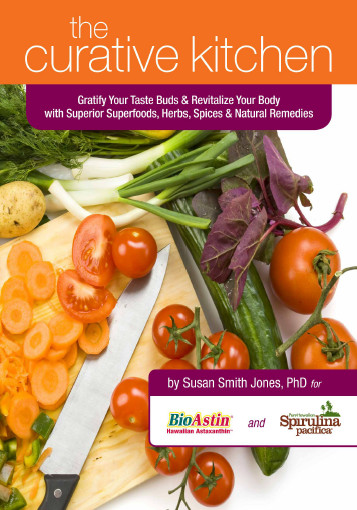 Free E-Book #2:
Dr. Susan Smith Jones, has created an easy-to-follow nutritional program just for you! A comprehensive food and nutrition resource and step-by-step healthy eating guide, The Curative Kitchen: Gratify Your Taste Buds & Revitalize Your Body with Superior SuperFoods, Herbs, Spices & Natural Remedies, shows us that vibrant health starts in the kitchen by choosing the most essential healing foods. Many of us make the wrong choices every day by consuming foods that were never intended for our miraculous bodies. Susan shows us how to make the appropriate food and other lifestyle choices to reduce our risks of premature aging, heart disease, common forms of cancer, arthritis, diabetes, and reduced vision and mental functions … and lose body fat at the same time. This is a special, limited edition of the book with a new cover.

Value: $19.95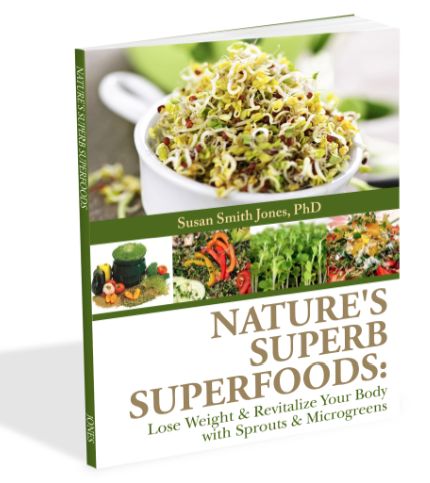 Free E-Book #3:
You will receive a FREE copy of Susan's full color, 51-page digital e-Book NATURE'S SUPERB SUPERFOODS: Lose Weight & Revitalize Your Body with Homegrown Sprouts (and it's also available in the STORE with a value of $9). If you want to lose weight, look years younger, save on your grocery bills, adopt a healthy hobby that keeps on giving, and get your family involved in kitchen gardening, you'll love this e-Book and will savor every page. It covers the ABCs of growing sprouts and how to use them in meals. Kids love participating in the sprout-growing process! For decades, Susan has been growing sprouts and enjoys them in smoothies and juices, sauces, sautés, sandwiches, muffins, salads, casseroles, breads, trail mix, and more that you'll learn about is this special gift. Click HERE for info on this book. To get the FREE download of NATURE'S SUPERB SUPERFOODS, go to the bottom of the page and fill out the simple form, which will take seconds.

More Gifts for YOU!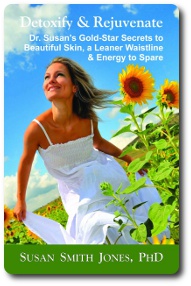 Free E-book #4:
You'll also get a FREE copy of Susan's popular, full color, beautifully designed, 44-page e-Book, DETOXIFY & REJUVENATE: Dr. Susan's Gold-Star Secrets to Beautiful Skin, a Leaner Waistline & Energy to Spare. The link here is only so you can peruse its contents; but you will get it FREE. This offer of a second bonus book expires soon.

To the list of gifts, you'll receive an At A Glance Quick Reference Botanical Guide for Common Ailments.
In addition, you will be automatically entered into a drawing that takes place weekly. One winner will be selected and notified. A date and time will be set for Susan to personally call you for a complimentary 90+-minute consultation with her. You can ask her anything you want about your health or how to create your best life. Or, if you prefer, you and Susan can simply have a wonderful, memorable visit — if you don't have any questions for her or health issues to discuss.
She loves learning about the lives of her subscribers and about their goals and dreams. So click on this button below, if you haven't done so already, and encourage your friends and family to also click and subscribe. You could be the winner this week!
Subscribe & Win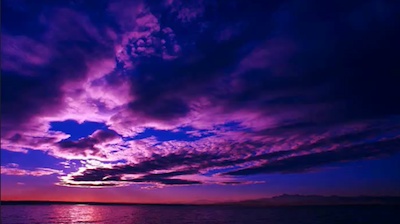 As a subscriber, you'll receive the newsletter notification every month, giving you a chance to see first what's new. You will also receive special gifts that are not available to regular visitors of the website. Be part of Susan's extended family today. Renew your life and make a fresh start today as one of Susan's special subscribers. And celebrate the sunrise with Susan every day with her daily affirmations and inspirational quotes on her website's homepage. Believe that something spectacular and unexpected is coming your way today to bless your life!
(TIP: If you are a long-time subscriber already, and you didn't receive (or misplaced) this gift package, simply "unsubscribe" and then quickly subscribe again, and this gift package will be sent to you after you click on the confirmation note.)
Subscribe Now to Enter the Weekly Drawing
& Also Get Two Color, Health-Enhancing E-Books FREE
Thank You!