Why Spirulina is My Constant Companion
Making E3 SpirulinaLive Your Constant Companion
Nature's Most Nutrient-Rich Superfood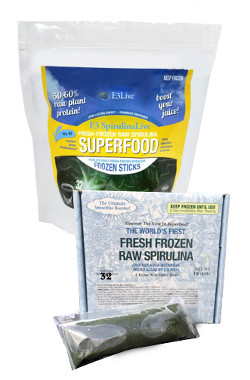 No taste, no smell, single-serve convenient packets in E3 SpirulinaLive. Add it to smoothies and any recipe you want to increase the nutritional value. It's the world first and freshest source of enzyme-rich, unheated spirulina.

Little did I know that almost 30 years ago, when I first started taking Spirulina, it would change my life for the better in myriad ways. In all this time, I have not had a cold or the flu, and I know it's not a coincidence. Hundreds of scientific studies have now shown that Spirulina is the perfect high energy, low calorie, high protein, healing, alkalizing, detoxifying, immune-system stimulating, and rejuvenating superfood for people of all ages and lifestyles who want a whole food source of vitamins and other nutrients.
Before I started including this naturefood extraordinaire into my diet decades ago, I was clearly not a picture of health and vitality. My energy was low; I had a hard time sleeping well and rarely felt refreshed in the morning; my allergies always got the best of me; my skin often looked peaked; my joints usually ached for hours after workouts; and I couldn't seem to lose the extra weight I was carrying around.

The World Freshest & Best Spirulina!

E3 SpirulinaLive is a nutrient dense blue-green algae. Their spirulina is never dried or processed. It is frozen fresh as a liquid and closest to its natural state, providing easily absorbed and assimilated nutrition. They guarantee you will "feel the difference!" E3 SpirulinaLive has 50-60% complete protein by dry weight basis with over 50 nutrients needed by your body. I take this revolutionary breakthrough superfood algae daily. Keep it frozen until use. It's an amazing product and the only one like it in the world — so fresh, unheated, nutrient-rich, easy to use, and versatile.

No taste, no smell, single-serve convenient packets in E3 SpirulinaLive. Add it to smoothies and any recipe you want to increase the nutritional value.
To order by telephone, call: 888-800-7070 (US & Canada) or 541-273-2212 (Intl), both PT, M - F • 8 - 4. Their product specialist can answer all your questions.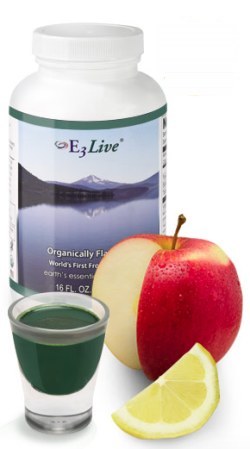 So I made a decision to try this wonder food that friends had been raving about to see if it would make a difference for me. And what a positive and dramatic difference it made! Within just one season—90 days—my allergies went away, I slept like a baby, had energy to spare, could work out longer and recuperate faster, and lost my extra weight. I knew that this was a superfood that would be a part of my healthy living program forever and I was deeply grateful to the E3Live company for creating such a stellar product.
I suspect that before I began my Spirulina regimen, I may have been prone to anemia, as my lack of energy and problems with sleep are indicative of this condition. Women around the world are at higher risk for anemia, which often results from insufficient iron intake. The World Health Organization estimates 1.62 billion people around the world suffer from anemia; 30% of non-pregnant women and 41.8% of pregnant women worldwide are afflicted with anemia, as opposed to 12.7% of men. Ample research has shown that iron-rich Spirulina can resolve anemia and bring iron stores in the body to normal levels. Luckily, I will never have to worry about anemia since Spirulina supplementation is part of my everyday routine! This is especially important for quality aging, as 23.9% of elderly individuals around the world suffer from anemia.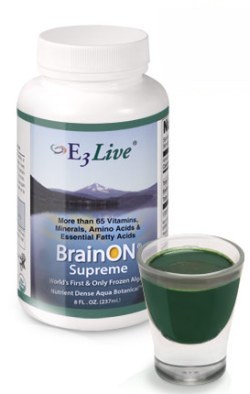 Spirulina's impact on blood health isn't limited to resolving anemia. Over the decades, I've seen great healing occur with Spirulina consumption both in my practice and with family members and friends dealing with blood clots, cardiovascular conditions, and high blood pressure. No coincidence here either: researchers have determined that Spirulina is a powerful anticoagulant and antioxidant that helps keep the circulatory and cardiovascular systems running in top form.
And blood health is just the tip of the iceberg, so to speak! I can also count on Spirulina to fortify my immune system. Research has shown that Spirulina increases immune activity, which might just explain why I've been cold- and flu-free since I began taking it. Spirulina has also been scientifically proven to reduce stress in the body; help curb appetite and junk food cravings; quell inflammation; reduce arthritic pain; increase endurance; reverse aging; minimize and alleviate allergy response; detoxify the body (including the colon, skin, kidneys, and liver); protect the brain; remove plaque from the arteries; neutralize free radicals; beautify skin; and so much more. It's also antiviral and shows much promise in preventing cancer. Can you now see why I wouldn't be without E3 SpirulinaLive in my diet each day?
Of course, not al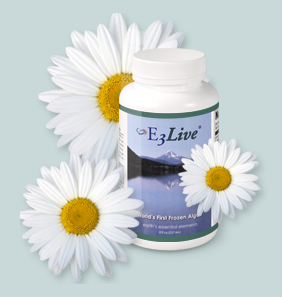 l Spirulina products are created equal. Since Spirulina comes from the ocean, it is only as pure as the water source from which it is drawn. Also, it must be carefully processed lest it lose its potency through high-heat drying procedures. What I appreciate about Hawaiian Spirulina is that it's a "live" and unheated gem of nature. Hawaiian Spirulina is extracted from an incredibly unique resource: deep ocean water pumped up from 2,000 feet below the surface of the Pacific Ocean. Scientists point out that this water has not been exposed to air or surface contamination for thousands of years. Nutrex's patented and quick drying method, done at the low temperature of 40 degrees F with less than 1% oxygen present, eliminates damage to nutrients and enzymes that naturally occur in Spirulina.
Why is this important to me? In my personal healthy living program, I emphasize lots of fresh, whole, raw foods because they are, among so many other benefits, richer in enzymes and nutritional value. It's rare, indeed, to find a Spirulina product that is a truly enzyme-rich, whole, minimally processed food. Nutrex delivers nature's unspoiled gift with unparalleled purity.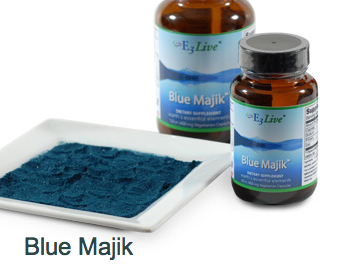 I also appreciate that each serving of E3 SpirulinaLive is rich in Phycocyanin — an amazing water-soluble blue pigment that gives Spirulina its bluish tint. Phycocyanin is only found in blue-green algae like Spirulina—you can't get it in other foods. It's one of the key ingredients that makes Spirulina such a wonderful, health-enhancing superfood and a vital difference between Spirulina and other green foods like chlorella, wheat grass, and barley grass.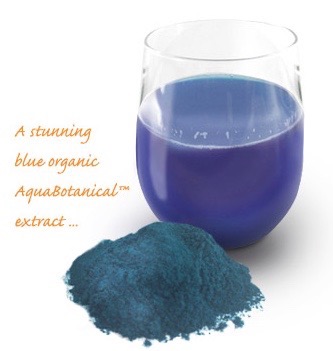 With its purity and potency, E3 SpirulinaLive is as good as it gets! It's unheated, pure, fresh, and potent. If I could only take one supplement for the rest of my life and had to make a decision on which one it would be, this would be a no-brainer choice for me. It would be E3 SpirulinaLive. Not only do I take the single-serve packets daily, but I also enjoy adding this nutrient-rich liquid into recipes including sauces, salad dressings, hummus, guacamole, smoothies, and more. I have even created a line of rejuvenating and beautifying facial masks for people of all ages that all incorporate this and also E3-AFA powder.
Throughout the pages of my website, you will find detailed information on using all of the E3Live products in my private practice and personal life. In countless people, I have seen E3 SpirulinaLive (and their other products like the AquaBotanical Blue Majik) cleanse, heal, and rejuvenate bodies from head to toe, inside out. Here's hoping you'll be one of those people!
For some Blue Majik Cocktail recipes, please click HERE.


Commit to a 30-day test of taking these products (E3 Spirulina Live, E3-AFA, BrainOn and Blue Majik) and you will see and feel the positive difference.
To order by telephone, call: 888-800-7070 (US & Canada) or 541-273-2212 (Intl), both PT, M - F • 8 - 4. Their product specialist can answer all your questions. To order online, visit: E3Live.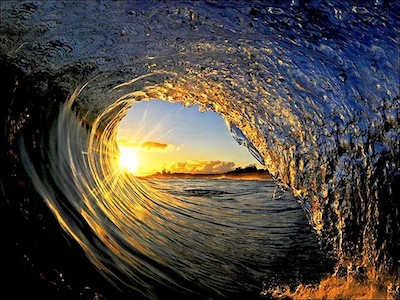 You must not lose faith in humanity. Humanity is an ocean; if a few drops of the ocean are dirty, the ocean does not become dirty.
~ Mahatma Gandhi
Algae were the first plants to appear on the planet. Billions of years ago, they transformed the carbon-dioxide-based atmosphere to an oxygen-rich atmosphere in which other life forms could evolve.
~ Bob Capelli