Kyolic® Aged Garlic Extract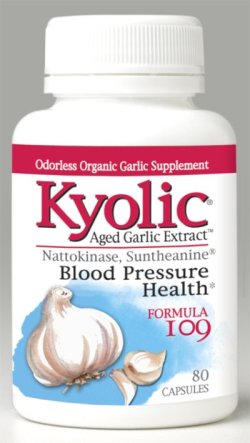 Kyolic Aged Garlic Extract is a remarkable nutritional supplement that I've taken for 40 years and it comes from the world renowned company Wakunaga of America. I consider Kyolic to be one of my personal bodyguards — helping to keep me healthy, vigorous, and full of life. I wrote extensively about Kyolicand the different formulas, and why I would never be without these supplements in my book The Joy Factor on pages 158-159.
(I also take many other products made by Wakunaga of America, includingHarvest Blend, Kyo-Green, Kyo-Red, Probiotics, and more. You can learn more about these products at Kyolic.com.)
"Kyo" in Japanese means "strength." And strength of body, mind, and spirit is what you'll surely have when you add these health-promoting supplements to your diet. Kyolic Aged Garlic Extract is revered worldwide. It has been proven effective in almost 700 studies — far more than all other garlic products combined! That's because Kyolic works for prevention and treatment of an amazing number of ailments—and it literally works wonders. I've perused most of the studies and have been so impressed that not only have I taken it for decades, but I also highly recommend it to my family, friends, business associates, and, of course, to all of the clients in my private practice.
I could write for pages and pages on Kyolic and the countless reasons you would want to make it part of your healthy living program. Instead, I'll link you to their striking website, Kyolic.com, where you can peruse some of the studies, learn about the formulas, and find out more about this line of products. For more information, or for a free sample of Kyolic, please call the Wakunaga of America Company at: 800-421-2998 (US & Canada) or 949-855-2776 (International). While Kyolic is available at better natural foods stores, you can also place an order for Kyolic (whether it's for Formula 109 or 103, 105, 106, 108 as well as others that I have taken for decades) through the Penn Herb Company and their telephone number and website are both above.