Handy Pantry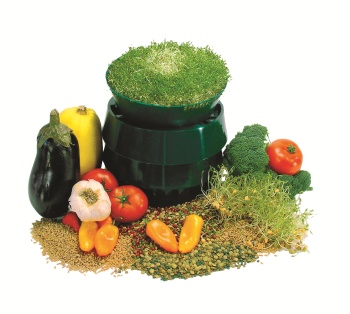 A family-run business with the expertise and heart from a health-oriented mom, her son, and her daughter, Handy Pantry's products are the only sprout-related ones that I use and recommend. The company has been around for 25 years, and they have a reputation of offering only the best-of-the-best sprouting supplies. While there headquarters are located in Provo, Utah, they will ship to you anywhere in the world. They all work daily at this business — Living Whole Foods, Inc. Call their friendly team of experts at either of the numbers below with all of your sprouting questions, and they will help you select the perfect products for your health and sprouting needs.
If you are into eating a living foods diet, then you probably are well acquainted with SPROUTS. These remarkable gifts of nature are pure, fresh, nutrient-rich, and alive with their vital force intact. If you're interested in experiencing healing, optimum health, and vitality, then make sprouts — the food for the future — part of your salubrious kitchen and lifestyle.
Sprouts have been a cornerstone of my wellness program for over 35 years. Think about it this way: What food can you easily produce and enjoy whether you are three years old or 103, vegan or carnivore, or are living in an inner-city high-rise or on an isolated island? What food is grown indoors with no soil, is harvested in two to seven days, and is loved by children and adults alike? What can supply your family with fresh vegetables year-round, regardless of the season? What food is edible raw or cooked, and is delicious either eaten all by itself or included in an exciting array of recipes? The answer is sprouts.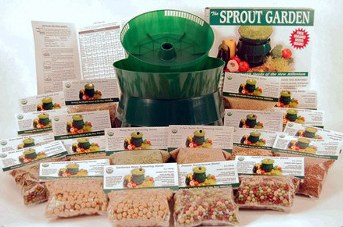 For years, I have purchased my organic sprouting seeds and other sprouting supplies through the premier company, Handy Pantry. Their team of experts can help you get exactly the right seeds and supplies for you. My grandmother taught me how to grow sprouts in my kitchen when I was a teenager, and I've been sprouting ever since. In fact, one of my nicknames is "The Sprout Lady" since I'm always giving gifts of my homemade organic sprouts to friends, clients, and family.
Nature's Little Miracle: You start with a small, dry, hard seed. Add warm air and a little water, and watch as new life emerges as if by magic from the dormant seed. Vibrant with life and bursting with energy, its tiny size belies the extraordinary activity that takes place while growing. In mere hours and at a cost to you of just pennies, its delicate shoot proceeds to provide the most vital food imaginable.
The Handy Pantry not only sells the best organic sprouting seeds available anywhere; they also offer all kinds of sprouting supplies that I use and highly recommend such as Sprout Growing Kits, Sprouters, Books & DVDs on Sprouting, WheatGrass Kits & Juicers, Food Storage Products, Washes & Fertilizers, and so much more! When you visit their website, HandyPantry.com, make sure to click on their related websites: GrowingMicroGreens.com, WheatGrassKits.com, and HerbKits.com. You and your entire family will enjoy and benefit from growing fresh sprouts and greens in your kitchen, and kids love to participate in the process. And the Handy Pantry is the ideal place for all of your sprouting supply needs.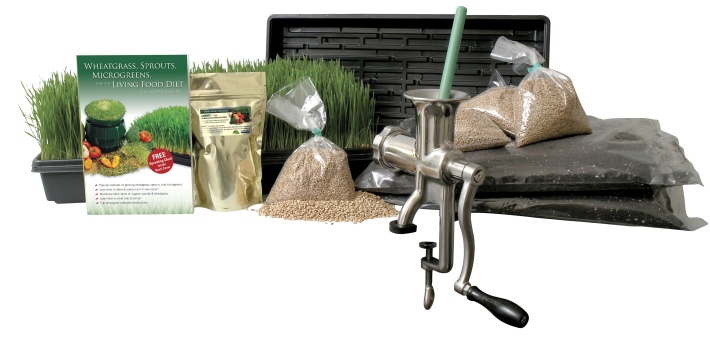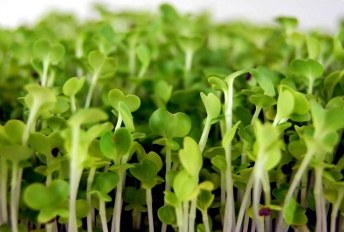 In my full-color recipe book, Recipes for Health Bliss, I devoted an entire chapter to Sprouting Your Way to Vitality. It includes a Sprouting Chart to show you, at a glance, how to easily sprout all kinds of seeds, nuts, and grains. It's the perfect chapter and book for anyone wanting to upgrade their diet and to reap the benefits of growing and consuming fresh sprouts.
For more information on this gold-star, family-run company, or to order organic seeds for sprouting along with all of the extra supplies, please visit: HandyPantry.com or call: 800-735-0630 (US & Canada) or 801-491-8700 (Intl).