wheatgrass
How to Grow Sprouts & Wheatgrass
Special Package Offer & Recipe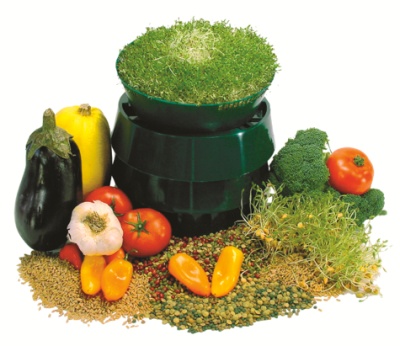 Good sprouting technique doesn't take a "green thumb," just paying attention to four factors: the right amount of moisture, the correct temperature, the free circulation of air, and minimal light. By rinsing them a couple of times daily, you keep them moist. You also wash away carbon dioxide and other metabolic wastes that could cause souring or spoiling. Using cool water when rinsing ventilates and cools the sprouts to prevent overheating. Proper draining prevents excessive moisture that can cause mold and rot. The ideal sprouting temperature depends on the seed, but generally lies between 70° and 85°. To protect the tiny growing things, keep sprouting containers away from cold drafts, direct heat, or any light. For free air circulation, at least one-third of the container must be empty. Sprouts expand 6 to 10 times over a few days, so give them plenty of room to grow. Sprouts are very light sensitive and need to be covered during the early stages of the growing cycle, as you'll learn in the instructional booklet that comes with your organic sprouting seeds and supplies from HandyPantry.com. Here are the six rules of sprouting:
The Healing Benefits of Broccoli Sprouts & Wheatgrass Juice
Special Package Offer & Recipe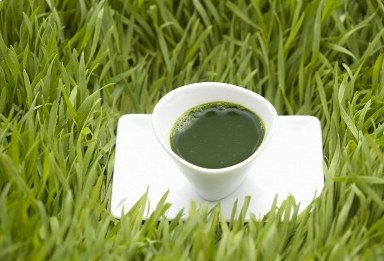 Previously, I wrote about growing wheatgrass in your home and juicing it. I have grown my own wheatgrass for juicing or have purchased freshly-made wheatgrass juice at juice bars and natural food stores for decades. Sprouted wheat that grows into wheatgrass about 8 inches long is a potent source of concentrated nutrition. As it grows, wheatgrass concentrates chlorophyll and other nutrients in preparation for becoming a big, fruitful plant. Wheatgrass itself is not digestible in our stomachs because it is too full of cellulose and other indigestive fibers. But when juiced and strained, all the nutrients are freed up and are readily assimilable by the body. And wheatgrass juice is a very powerful overall body detoxifier. Its high chlorophyll content cleanses the liver, tissues, and cells and purifies the blood. Placed in the nose, a few drops can reduce inflamed nasal passages and sinuses, relieving congestion without chemicals. Gargling will help relieve a sore throat. Wheatgrass is an excellent natural mouthwash and breath deodorizer. It will leave the breath smelling naturally fresh while nutrifying the gums and delicate tissues of the mouth. Some have used it on the skin to relieve pain and skin problems.
The Handy Pantry Company has a variety of wheatgrass juicers from which to choose, as well as Wheatgrass Kits and organic wheat seeds. Their team of experts can help you make the best choices for you. As I mentioned last time, wheatgrass and other sprout juices are best taken right after juicing for highest nutritional content. You can refrigerate for a day or two if you use an airtight jar. It will keep for a longer period if frozen quickly right after juicing. Wheatgrass juice is a super tonic for the whole body; it's rich in antioxidants, enzymes, simple sugars, chlorophyll, vitamins, and minerals. Before I extol the virtues of broccoli sprouts, below is some more information on the healing benefits of wheatgrass juice and how it became popular. Also, you'll enjoy this short YouTube Video of an American 48-state trucker who grows wheatgrass and sprouts in the cab of his truck. If he can grow it on the road while he's working, we can certainly grow the wheatgrass and other sprouts in our kitchens.