toxic chemicals
HEAT THERAPY: How Infrared Saunas & Artificially Induced Fever Detoxify, Heal & Rejuvenate the Body

ORDER TODAY - An Infrared Sauna & Ionizer Plus
The gift of health/vitality/healing is the best gift you can give yourself and your loved ones. I highly recommend these salubrious products. Both have been front and center in my healthy lifestyle for decades and I wouldn't be without them!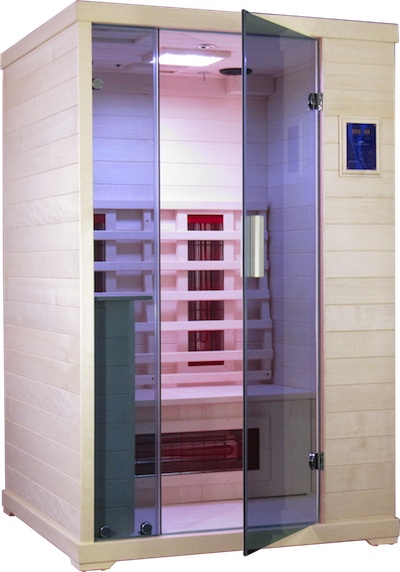 To listen to a radio interview on the program Vibrant Living where I discuss HEAT THERAPY: How to Use Profuse Sweating & Infrared Saunas to Revitalize Your Body, please click HERE.
To read my article on HEAT THERAPY and INFRARED SAUNAS, and myriad ways they heal and rejuvenate, click HERE.
See below on how to get a $500 discount for a limited time on a personal infrared sauna for your home or office. A sauna can go on a patio or deck, or in an exercise room, bedroom, family room, garage, backyard, playroom, bathroom, office, or any location where you can find a few extra feet of space.
For my article on environmental toxins and chemicals in your home, their sources and harmful effects, and natural detox remedies, click HERE.
---
From the world-famous clinic in Switzerland, The Paracelsus Klinik, to many of the top MDs in anti-aging and progressive medicine in the United States, as well as thousands of general health practitioners, High Tech Health in Boulder, CO has been the home for the infrared sauna company of choice since 1998. In the popular book written by a medical doctor, Detoxify or Die, the author writes that... "the best way to get rid of heavy metals and pesticide residues is by using an Infrared Sauna." That's definitely true. And I would also add that ta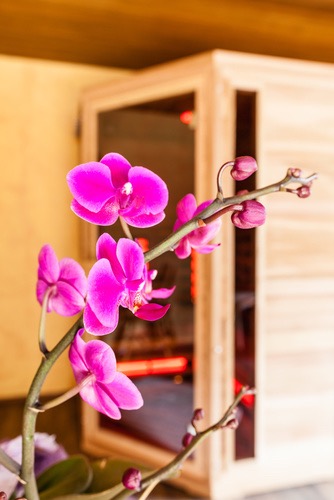 king infrared saunas is also the best way to look and feel younger, completely relax, improve circulation and digestion, quell joint and muscular aches and pains, lose weight, reduce cellulite, and beautify skin. You can call for information (the number is below) on their Transcend or Thermal Life Infrared Sauna and also their Ionizer Plus Water Electrolyzer.
---
The Transcend® Premium Far Infrared Sauna (pictured above) is my favorite one from High Tech Health, the one I have in my home and highly recommend to everyone (I also have their superb Thermal Life Infrared Sauna in my office). Whether you put this sauna in your spare bedroom, on your backyard deck, in your garage, bathroom, or basement, in the garden, or even in the corner of your bedroom, regular use will supercharge your healing, health and rejuvenation. It's my #1 health secret to never getting sick and always maintaining my youthful vitality, along with the alkaline water from my Ionizer Plus device also from High Tech Health.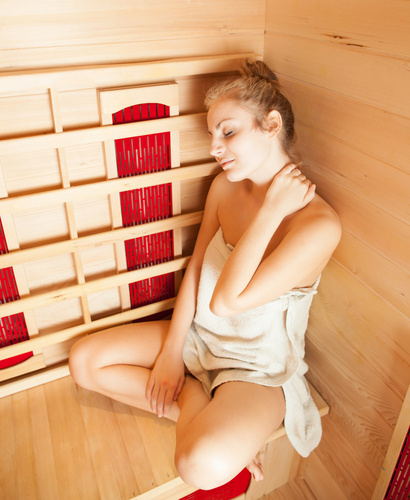 Their Transcend Premium features include...
Chromotherapy Lighting
Sound System — AM/FM, CD or MP3
No-Lift Assembly™
Full tinted glass door and window
Bio-Resonance™ Emitters
100% Premium Poplar Wood
Fresh-Air Fan
Cup Holder Stand
Built-In Ergonmic Backrest
Dual Touch Control Panels
Chromotherapy Lighting — an atmosphere light emitter with single color or color-cycling options and remote controlled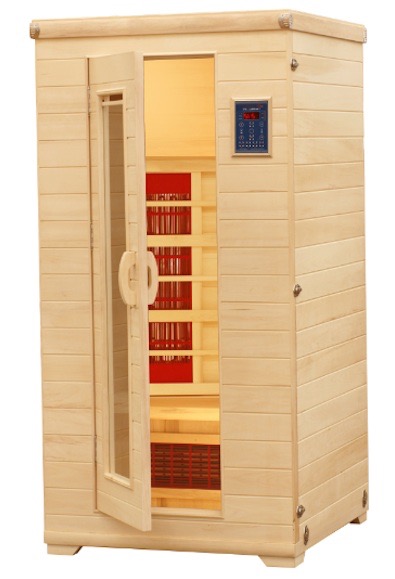 Before I go into detail on the benefits of infrared saunas, I thought you'd like to know this is my #1 secret to staying healthy and forever youthful, along with drinking the right kind of alkaline water. For decades, I have been using a personal Thermal Life Far Infrared Sauna (and the Transcend, too) on a regular basis and know it's one of the main reasons that I haven't been sick (not even a cold or the flu) in over 30 years and have never taken any prescription medication. I have also seen remarkable benefits in people using this sauna, including help with weight loss; reduction of cellulite; stress relief; toxin removal; cardiovascular support; reduction in achy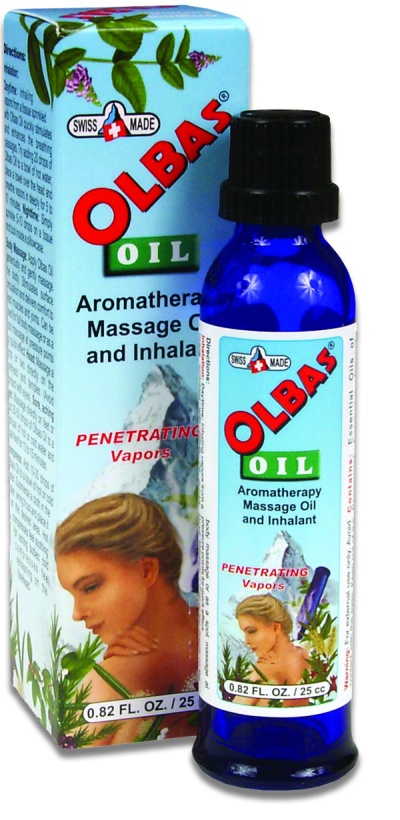 joints and muscles; enhanced immune health; skin rejuvenation and so much more.
Sometimes I massage in Olbas Oil after arduous workouts before getting in my Transcend or Thermal Life sauna and it relieves achy joints and muscles like magic, and also opens up my nasal and respiratory passages. I've been using the Olbas products for over 40 years. The Olbas Oil and Infrared Sauna combo is an efficacous, powerful duo to use together.

Thermal life and Transcend Infrared Saunas (the best in the industry) come in all sizes whether it's for just one person or an entire family. Personally, I got the largest one so I could lie down in it easily like you see the lady doing in the photos below. Sometimes I sit up when taking a sauna, but I usually start the sauna practice with lying down in some fashion. I often listen to music or motivational audio programs, and sometimes I even take a nap.

Saunas, in one form or another, have been used across ages and oceans. Cultures around the world have recognized the relaxing benefits of rendered heat within a warm, welcoming space. From the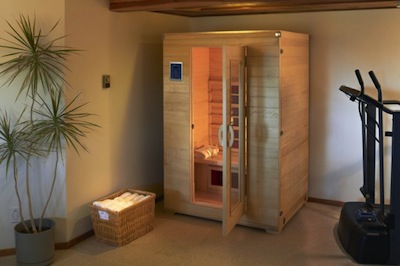 Romans to the Japanese to the Scandinavians, heat therapy has been essential for the body to unwind from the stresses and hardships of daily life.
Far infrared is a section of the natural band of light that is not visible to the human eye, but can be felt as heat. Unlike the high heat produced in traditional saunas, far infrared heat is able to [enetrate the body to a depth of 1.5 to 2 inches. This stimulates they body's cellular detoxification process more effectively and at lower temperatures than a traditional sauna.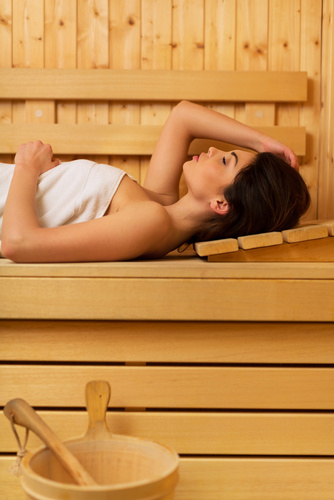 Heat therapy — sweating — is not only an important part of our physical well-being, but in these modern times of water and air-borne pollution, toxic chemicals, heavy metals, and poor dietary and exercise habits, the therapeutic internal cleansing of regular sweating is critical to maintain a healthy body and mind.

Infrared Sauna vs Steam Room

The infrared sauna is more beneficial over the steam room if weight loss is desired because of the energy expenditure. Compared to the steam room, the sauna places a greater demand on the body in terms of using up calories — therefore assists in fat loss. The heart has to work harder to send more blood to the capillaries under the skin. There energy required for that process is derived from the conversion of fat and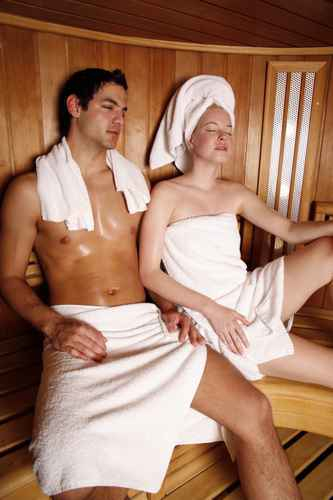 carbohydrates to calories. In addition, the sweat glands must work to produce sweat, which also requires energy and more calories. Studies show that a person can burn up to 300 calories during a sauna session, the equivalent of a 2-3 miles jog or an hour of moderate weight training.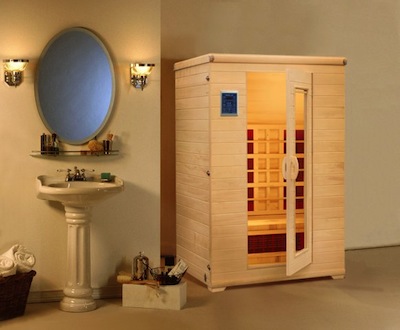 Having a personal Thermal Life or Transcend Infrared Sauna at home (they come in all sizes to fit small or large spaces) is a surefire way to heal the body and create vibrant health. You can use it any time that's convenient for you, and you won't need to sit in the toxic residue from other people in a community sauna such in a gym. When I take a sauna, I relax in the comfort of this healing space and drink alkaline water (to help further the detoxification of my body) from my Ionizer Plus Alkaline Water System. It's truly rejuvenation in a glass of water — the reason I drink at least 8 glasses of this water daily and use it for my cooking and recipes.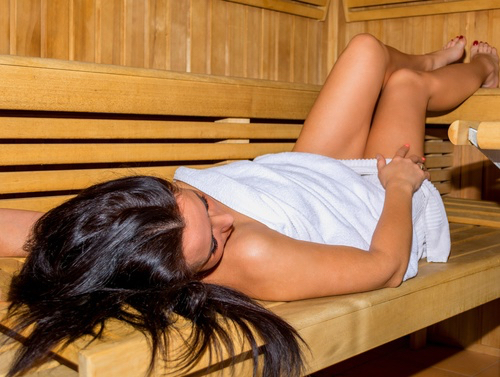 To ask any questions, or to get a $500 discount on a Thermal Life or Transcend Infrared Sauna for your home or office, and a $300 discount on an Ionizer Plus Water Electrolyzer Alkaline System (pictured next to the sink in the photo below), call Emery at High Tech Health, their Detoxification and Product Specialist:
800-794-5355 MT, Ext. 813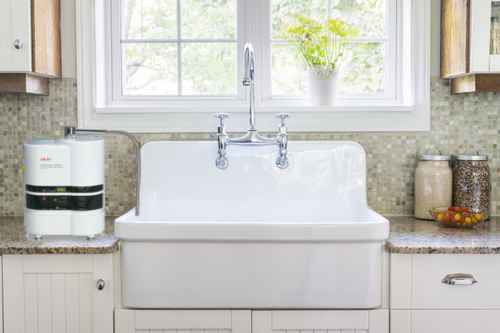 Getting Your Body Ready for Conception and Pregnancy Plus Dr. Susan's Surefire Detox Tips for Everyone... and for All Ages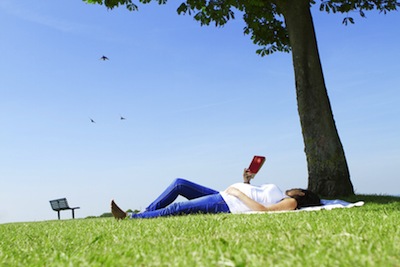 This blog starts out with info about preparation for conception for men and women. Then below, as you scroll down, I go into many toxic chemicals found in our environments and bodies and how you can easily cleanse and detoxify your body — tips for everyone of all ages. I also include detailed recommendations on how to get my favorite detox products that I use daily... and for a discount, too.
Preparation for conception and pregnancy is one of the most important things a man and woman can do for paternal and maternal health, as well as the health of the baby.

Today, men and women are exposed to an overwhelming amount of dangerous toxins that sabotage conception and threaten the delivery of a healthy baby. Diet, exercise, and sleep are important steps to take, but are NOT enough. Detoxification for both the mother and the father is a step that must be taken in order to give the unborn child a chance to thrive and reach human potential.

A 90-Day Pre-Conception Detoxification Program (and for anyone—male or female—wanting a whole-body cleanse) with the Thermal Life Sauna, Ionizer Plus Water Electrolyzer, will:

Remove heavy metals and chemicals from the body

Support detoxification of excess estrogen hormones

Reduce the body's acidic state; restore the natural pH balance

Eliminate digestive problems and inflammation

Improve energy and assist with weight maintenance

Jump-start healing and relieve allergies

Increase circulation to the reproductive system

Support the production of healthy sperm and eggs

Relieve the toxic burden on the body's organs

Support healthy endocrine hormonal system

Increase fertility and chance of healthy conception

Provide a solid foundation for overall health for the father, the mother and the unborn child


Today you can get a $300 discount on an Ionizer Plus Ultraviolet Electrolyzer Alkaline Water System for your kitchen and a $500 discount on a Thermal Life Infrared Sauna for your home! For more info, call Em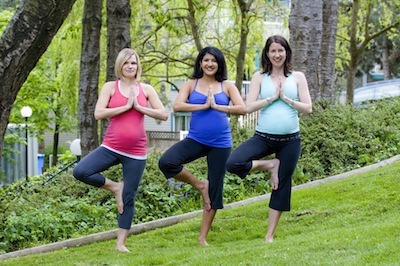 ily at High Tech Health, Ext. 802: 800-794-5355 MT

For more in-depth info on the healing power of fresh, perfectly-alkalized water and how it hydrates, detoxifies, rejuvenates and energizes the body, click HERE.
To listen to one of my radio interviews on how an over-acidic body destroys health, why we must alkalize the body daily, and which alkaline water is the best, click HERE.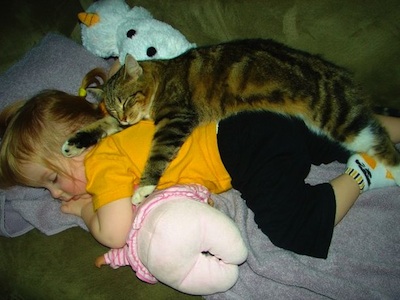 Toxic Mother and Her Unsafe Womb

Harmful heavy metals and chemicals are ingested by the mom-to-be everyday via air, water, soil and food.
Some toxins mimic female sex hormones, estrogens and progesterone, disrupting the endocrine system. This contaminates a healthy conception and pregnancy.

As the mother is exposed to hazardous toxins, she passes these toxins along to her unborn baby through the umbilical cord and into the placenta.
The earlier in life that toxic exposure occurs, the more powerful the toxins affect a child's development ongoing from that day forward.
The Environmental Working Group found a steady stream of pollutants and pesticides that cross the placenta. Of the 287 chemicals detected in the umbilical cord blood, (lots more below) 180 cause cancers in humans, 217 are toxic to the brain and nervous system, and 208 cause birth defects or abnormal development. (lots more info below)