Susan Smith Jones
The Benefits of Sprouts, Wheatgrass & Living Foods
Special Package Offer & Recipe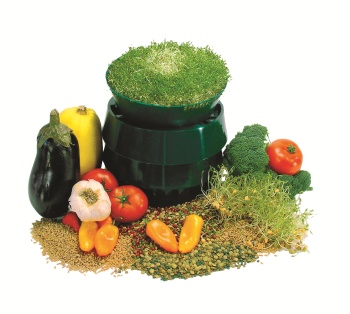 If you are into eating a living foods diet, then you probably are well acquainted with sprouts. These remarkable gifts of nature are pure, fresh, nutrient-rich, and alive with their vital force intact. If you're interested in experiencing healing, optimum health, and vitality, then make sprouts — the food for the future — part of your healthy kitchen and lifestyle. Sprouts have been the cornerstone of my wellness program for over 40 years. Think about it this way: What food can you easily produce and enjoy whether you are three years old or 103, vegan or carnivore, or are living in an inner-city high-rise or on an isolated island? What food is grown indoors with no soil, is harvested in two to seven days, and is loved by children and adults alike? What can supply your family with fresh vegetables year-round, regardless of the season? What food is edible raw or cooked, and is delicious either eaten all by itself or included in an exciting array of recipes? The answer is SPROUTS. To listen to another interview I did on the wonderful world of sprouting, click the playbar below:
This text will be replaced. Do not delete!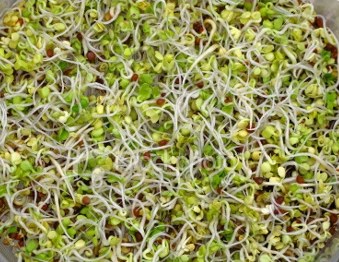 Nature's Little Miracle: You start with a small, dry, hard seed. Add warm air and a little water, and watch as new life emerges as if by magic from the dormant seed. Vibrant with life and bursting with energy, its tiny size belies the extraordinary activity that takes place while growing. In mere hours and at a cost to you of just pennies, its delicate shoot proceeds to provide the most vital food imaginable. Want to grow sprouts in your kitchen and purchase the best organic sprouting seeds and sprouting supplies? Interested in losing weight, looking younger, and boosting your energy and joie de vivre? If you answered yes, then make friends with my favorite sprouting company Handy Pantry. Contact: 1-800-735-0630 (US & Canada) or 801-491-8700 (intl), or visit: HandyPantry.com.
A Slimming, Energizing Healthy Concentrate
"Health comes from the farm, not the pharmacy," as I write in The Curative Kitchen.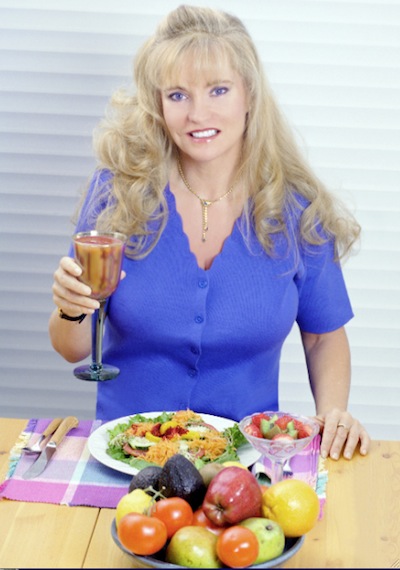 When I was barely 17, I learned the secrets to living a healthy, balanced life from grandmother, Fritzie. At that time in my life, my diet was deplorable. Meat, sweets, and white refined-flour breads were my daily pleasures and my health sorely suffered as a result. I was rarely without allergies, and I carried copious amounts of tissues with me everywhere to wipe my runny nose, deal with my sneezing and to take care of all the extra mucus that I was coughing up. It was not a pretty picture and my physician apprised me that I would have to live with this condition forever.
One day when I was visiting with my grandmother, telling her what I learned from my doctor, Fritzie told me that if I followed her healthful guidance and suggestions 100 percent, she guaranteed that not only would my allergies and sinus problems clear up within 30 days, my entire life would also profoundly change for the better: my acne would clear up, my energy would soar, the extra weight I was carrying would fall away, and my attitude would change from negative to positive. Needless to say, she had my attention, and for the next several hours and days (and eventually years), I learned a variety of health practices that—even though they sounded weird and strange at that time—still touched a responsive cord in my heart. That well-known adage, "When the student is ready, the teacher will appear," was definitely true for me with my grandmother's loving support. I was ready and my entire life would change for the better because of that wonderful, memorable day with Fritzie—when my new approach to healthy living was engendered.
Along with comprehensive guidance on the healing power of natural, plant-based foods, herbs and spices and the importance of cultivating a positive attitude, she taught me the specifics of taking great care of my body so that my body would be better equipped to take great care of me—in other words, how to live a sacred, balanced vibrantly healthy life. One of the health foods she encouraged me to take every day was raw apple cider vinegar. She had me put one to two tablespoons into a glass of water (about 10 – 12 ounces) and drink it down at least once daily. Within days of consuming this new beverage, I began to feel better, and it's been part of my healthy living program for decades — that is until a few months ago when I discovered a fantastic liquid herbal concentrate called Slender Cider. (Refer to my healthy eating and living books — Health Bliss, Be Healthy~Stay Balanced, Recipes for Health Bliss and The Healing Power of NatureFoods — for detailed information on healthy foods/recipes and living with vibrancy.) From my grandmother's loving guidance, I chose my life career; my passion for alternative and holistic heath was born. And because of her holistic health teachings, I have never taken any prescription medication in my life. Instead, I choose to live close to Nature and listen to my body's whisperings. To learn more about my favorite apple cider vinegar~herbal concentrate, continue reading.