Renew Me

PUSH-AWAY: The Easy-Peasy Strengthing Exercise for All Ages

On the program This Week in America, with host Ric Bratton, we discuss the topic... Invest In Yourself with Exercise: Surefire Tips to Enjoy, Enrich & Energize Your Workouts. These are tips I've used with clients, friends, and family worldwide for decades and they really work. You will be so motivated to exercise that you'll probably start a workout before the show is over. Share this interview with family and friends.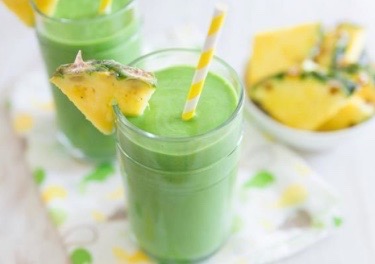 Below is the recipe for RENEW ME Pineapple Green Smoothie. It's excellent to drink before and/or after workouts for endurance and exercise recovery, and it also supports weight loss and vision.

---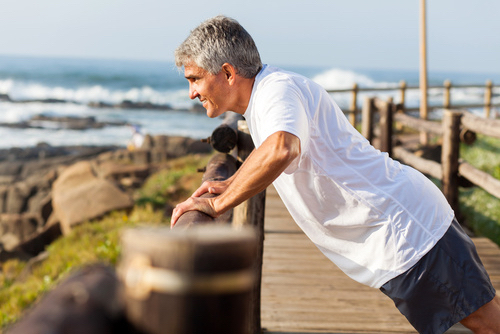 For decades I have been doing Push-Aways, a word I coined in the '70's when I was the first fitness trainer in Los Angeles. I do them anywhere and everywhere I can. They are so simple and effective. Actually, they are simply a modified push-up, which is usually done on the ground. But much of the time, we don't want to get down on the ground to do a push-up when we are outdoors. So a push-away is perfect and lots of fun! Within a few days, you will see your strength improve and you'll be able to graduate to doing more reps on a lower railing, too.
During my hikes and outdoor power walks or jogs, I'm always looking for railings, walls, benches, fences, banisters, tree stumps, and anything on which to support my body weight. I even do them in my kitchen on the edge of island and peninsula, my office desk, and even on my bathroom vanity.
Notice this photo of my client Peter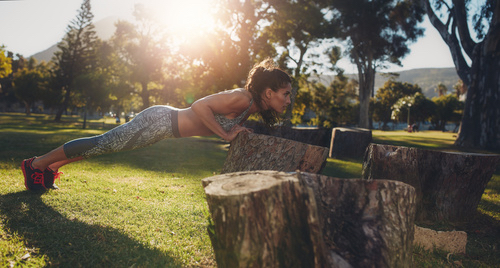 above near his home in Malibu. He is using the railing of the walkway to do his push-aways. Vary your arm position. Peter is doing this set with his hands placed under his shoulders. This gets the chest, front of the shoulders, and arms. If you keep your elbows close to your sides, you will also get your triceps (the underneath part of your upper arms). Then after a few seconds rest, do another set with your hands a bit wider than your shoulders, which is great for strengthening all of you chest muscles.
Want to Lose Weight? Make It Easy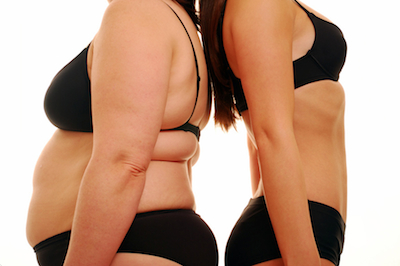 Recently, I asked 21 of my clients to eat two large-size salads a day for 30 days and include lots of leafy greens and a variety of vegetables in their salads. The salads needed to be eaten before other foods at the meal. Salads fill you up with healthy fiber so you have less space for unhealthy foods afterwards. Nothing else in the rest of their diets changed except that each person also took two nutritional supplements that I also take daily — RENEW ME and BLUE MAJIK (an AquaBotanical), in either capsule or powder form.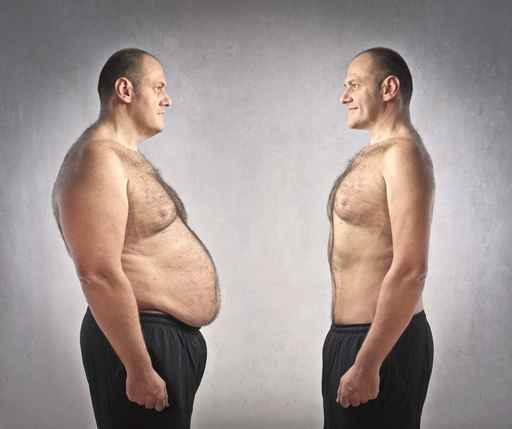 At the end of one month, everyone lost weight — from a total of 5 pounds to 12 pounds — simply by eating two salads daily and taking these two supplements. While these are not weight loss supplements, they are excellent for detoxification, immune health, vitality, and rejuvenation. What's more, they all had other healthful benefits such as better digestion, improved sleep, elimination of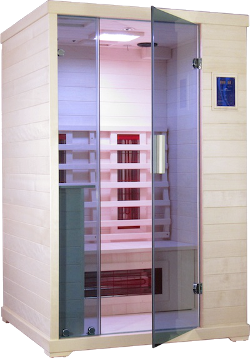 constipation, higher energy, and more glowing skin. Make salads your constant companions. Get in the habit of eating raw salads daily before you eat other foods, especially cooked foods. It's a health and beauty secret I teach many celebrities I work with, both men and women, who wish to lose weight, boost energy, get healthy, and look younger... really fast.

Heat Therapy, Alkaline Hydration & Green Smoothie:
In a follow-up study, I asked another separate group of 20 people to participate who all owned both an Ionizer Plus Alkalin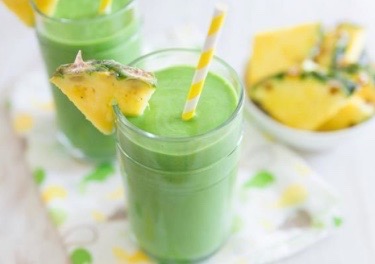 e Water Electrolyzer as well as either a Thermal Life or Transcend Infrared Sauna. (Both are available from the renowned company High Tech Health in Boulder, CO.) They were asked to duplicate the same routine as above with the salads and two supplements, except this time, each participant also drank 8 glasses of the Ionizer Plus alkaline water daily, took an infrared sauna daily, and consumed a Renew Me Today Pineapple Green Smoothie daily (click the link for the recipe) either as a snack or sipped throughout the day. In other words, this second group had two servings of Renew Me daily.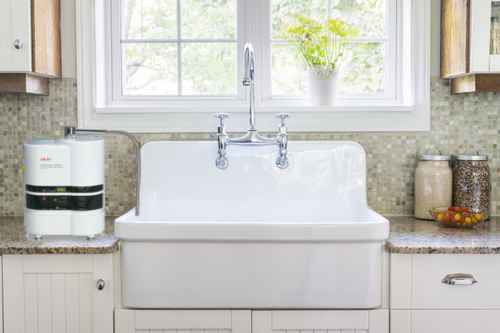 All of the second group's results were off the chart positive — losing between 12 and 24 pounds in a 30 days. In addition to the positive results experienced above with the first group, this second group also reported other benefits such as deep relaxation, reduced joint stiffness and muscle aches, and a more positive attitude.

To order an Ionizer Plus and/or a Transcend or Thermal Life Infrared Sauna, or t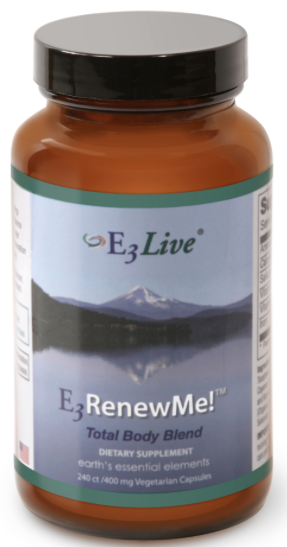 o get more info, please call Emery, ext. 813, their Detoxification and Product Specialist: 1-800-794-5355 (US & Canada) or 1-303-413-8500 (Intl), both MT. She will h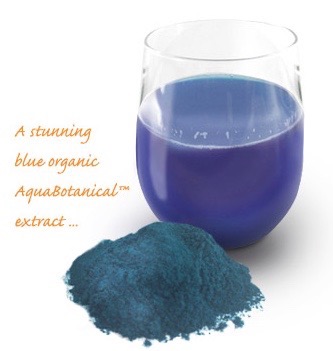 appily answer all of your questions. For a limited time, get $500 off your purchase of a sauna and $300 off the Ionizer Plus with my name ("SSJ") as a code.

To order both Renew Me and Blue Majik, visit: E3Live Company or call: 888-800-7070 (US & Canada) or 541-273-2212 (Intl), both PT, M - F 8 - 4. They will happily answer any questions you may have about their products and how many bottles to order. They are very friendly and helpful. Please tell them hello from me. I am never without these two nutritional supplements in capsule form when traveling.

---
Blue Majik Cocktail Recipes
To order Blue Majik in powder or capsule form, or for more delicious, nutritious recipes using it, please click HERE.

Blue Majik (an AquaBotanical extract) is a rich source of Phycocyanin — a powerful, deeply detoxifying antioxidant, an AquaBotanical, which can quench free radicals and has been shown to be a potent natural COX-2 inhibitor. Phycocyanin is being studied more and more by scientists around the world in recent years. The word "phycocyanin" comes from the Greek word for Algae "phyco" and the Greek word for blue "cyan." Phycocyanin is an amazing water-soluble blue pigment that gives spirulina its bluish tint. Phycocyanin is only found in blue-green algae—you can't get it in other foods.
Below are a couple delectable ways to consume Blue Majik. You can also choose to simply take it in capsule form. I'm never without the capsules when I travel.
Having this Blue Majik Cocktail daily will do wonders for your vitality, energy, appearance, and confidence! This simple recipe will knock your socks off. It takes about two minutes to make; it's delicious; it cleanses and rejuvenates the entire body; and it's so beautiful.