Louise Hay
Reasons to Grow Sprouts in Your Home
Special Package Offer & Recipe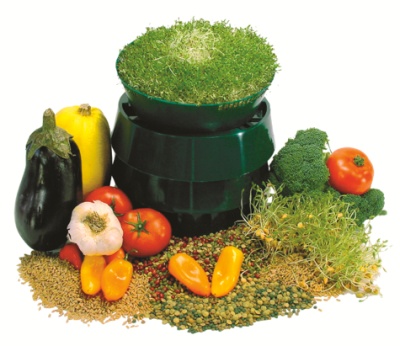 In the last blog, I introduced you to the wonderful world of sprouts. I will continue this blog series on homegrown sprouts and all of their benefits in the hopes that you, too, will catch the passion for growing and consuming more life-giving, nutrient-rich sprouts. Growing and eating sprouts has been one of my greatest passions for decades and I am never without fresh sprouts growing in my kitchen. Besides their nutritional advantage that I wrote about in the previous blog, sprouted seeds, beans, and grains have several other sterling attributes that make them an ideal addition to your regular diet and a prime food source in times of need. Sprouts are economical; ecological; toxin-free; easy to store; low in calories and fat; tasty and versatile; and simple, easy, fast to grow. Below I will write in more detail about all of these categories. I have also devoted an entire chapter (Sprouting Your Way to Vitality) to the wonderful world of sprouts and how to grow them in my full-color recipe and nutrition book Recipes for Health Bliss: Using NatureFoods & Lifestyle Choices to Rejuvenate Your Body & Life. If you are interested in learning more about sprouts, losing weight, looking younger, boosting energy, and preparing healthful, delicious meals the entire family will love, then this celebrated recipe book is perfect for you. It has over 150 color photographs in the book and is beautifully designed — every page — in magnificent color. Louise Hay, world-renowned author and publisher said about this book: "It's the most beautiful health book on the planet."
Check out this YouTube Video of a truck driver who grows wheatgrass and other sprouts in the cab of his truck as he's driving across the country. After seeing this short video, you'll have a better idea of how easy it is to grow sprouts in the comfort of your kitchen and other rooms of your home.
With all of the media work I do on sprouting-related topics — including radio and TV talk shows — I am always asked where I recommend purchasing supplies. I highly recommend the Handy Pantry Company — the premier source for organic sprouting seeds and supplies such as sprout-growing kits, wheatgrass kits and wheatgrass juicers, microgreen kits, herb kits, and so much more. For more information or to order organic sprouting seeds and other supplies, please visit their website or call them: HandyPantry.com or 1-800-735-0630 (US & Canada) or 801-491-8700 (Intl), both MT.