immune system
Take Loving Care of Yourself: Using Sprouts & Raw Foods to Detoxify, Heal & Rebuild Your Body
Special Package Offer & Recipe
I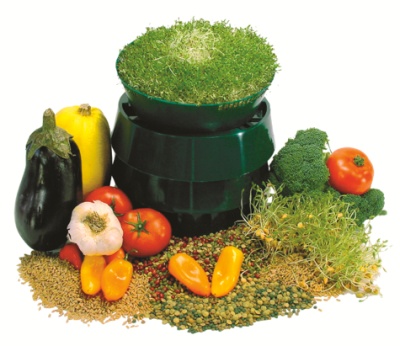 n this series of articles on the health benefits of sprouts, live foods, and healthy living, you are learning about why sprouts are my all-time favorite superfood and my passion for educating others about their life-giving attributes. I learned about the nutritional benefits of sprouts from my grandmother as a teenager and have also gathered much information from the premier company for all-things-sprouting — HandyPantry.com. Before I highlight some more benefits of sprouts, let's take quick look at how miraculous is the human body and its ability to heal itself, if given to right food and loving care.
What happens when you cut your finger? It heals itself. It's a miracle to me. Sometimes though — due to our carelessness — it festers, becomes infected, and begins to give us pain. Pain is our body's signal to us that it needs help. With a cut finger, the course of action is obvious. Clean it and disinfect it. But what about tiny, invisible "cuts" that we can't see, which are happening inside our bodies all the time? What do we do about subtle messages of pain coming from them? Too many of us reach for the nearest chemical "pain-reliever," when we could be doing something more — and better. There is a sword stabbing inside our bodies. A sword which is cutting a swath of ill health in millions of Americans and people worldwide.
Our bodies are being damaged inside, invisibly and mercilessly, by toxic chemical reactions. Toxic chemical additives and hazardous wastes in our air, water, and food supplies will continue to pervade our living and working environments. These toxins are returning to us in everything we eat, drink, and breathe. Thankfully, though, much of the internal damage they do heals automatically, like that cut on our finger. However, when our body is not adequately nourished, it can't neutralize and expel these poisons fast enough, as I write about in my booklet/CD combo Detoxify & Rejuvenate: Dr. Susan's Gold-Star Secrets to Beautiful Skin, a Leaner Waistline & Energy to Spare (which you can get as a Bonus Gift when you purchase my new 2-book set Walking on Air and The Joy Factor through the Penn Herb Company numbers at the end of this article). They build up in our body, and so does the invisible damage they do. Toxic build-up can severely damage our immune system. So how do sprouts help heal the body?