detoxify
Blue Majik Cocktail Recipes
To order Blue Majik in powder or capsule form, please click HERE.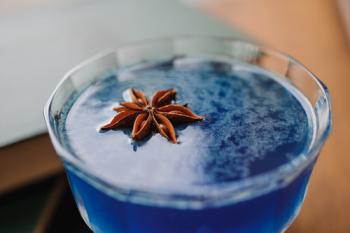 This simple recipe will knock your socks off. It takes about two minutes to make; it's delicious; it cleanses and rejuvenates the entire body; and it's so beautiful.
Blue Majik is a rich source of Phycocyanin — a powerful, deeply detoxifying antioxidant, an AquaBotanical, which can quench free radicals and has been shown to be a potent natural COX-2 inhibitor. Phycocyanin is being studied more and more by scientists around the world in recent years. The word "phycocyanin" comes from the Greek word for Algae "phyco" and the Greek word for blue "cyan." Phycocyanin is an amazing water-soluble blue pigment that gives Spirulina its bluish tint. Phycocyanin is only found in blue-green algae like Spirulina—you can't get it in other foods.
Having this Blue Majik Cocktail (aka Blue Magic Cocktail) daily will do wonders for your vitality, energy, appearance, and confidence!
Serves: 1 - 2
Prep Time: 1 - 2 minutes
1 - 1/2 cup Ionizer Plus Alkaline Water (or other juice like apple, orange, grapefruit, blueberry, cranberry, or coconut water)
1/4 tsp. Blue Majik powder (or the contents of about 2 capsules)
1 drop pure vanilla extract
1 star anise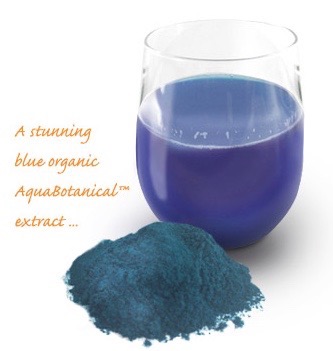 Put the powder into a glass, add the liquid (chilled or room temperature), and mix well until the powder is dissolved. Pour into cocktail glasses (or other favorite glass) and top with a star anise as pictured. The color is absolutely resplendent so make sure you put this in a see-through glass. Enjoy this salubrious cocktail morning, noon, or night. The star anise is mostly for decoration although it will impart a small flavor note of licorice if you let it sit in the refrigerator for a couple hours or more.
Variations:
At my local juice shop, I get different fresh blends of juices... apple/rose, apple/lavender, apple/pomegranate, watermelon/mint, and more. All of these blends work well for this cocktail, too. A simple coconut water is delicious for this cocktail. It's always a stunning color and enjoyed by all ages, even children.
Star Anise:
This star-shaped seed pod of an evergreen tree is about one inch high with eight segments and a dark brown rust color. It get its distinctive licorice taste, like regular anise, from a chemical compound called anethol. However, the two are not related botanically. The star anise is a member of t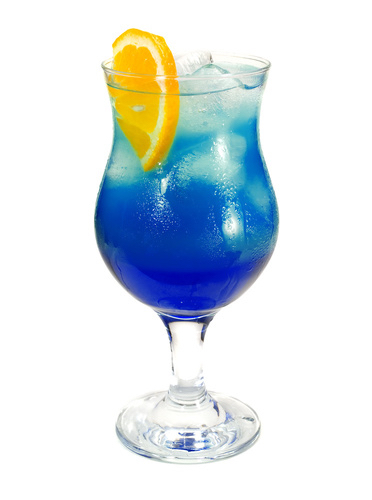 he Magnolia family. It's one of the spices in Chinese five-spice powder.
In traditional Chinese medicine, this beautiful star anise is prescribed as a digestive aid and to help cure colic in babies. It's available in Asian supermarkets and also in most grocery stores in the spice section. When you get it home, store the star anise in a sealed container in a cool dark place; it will last for several months. Throw it out (or put it in your garden's soil) once the flavor fades. If you use it in your simmered or other dishes, star anise is usually added whole (don't break it up into pieces) and discarded before serving.
The next recipe is scrumptious, too.
SuperFoods & Lifestyle Choices for 2016 To Supercharge Your Health & Enrich Your Life
At the end of this article you'll find a Detoxify & Rejuvenate Smoothie Recipe.
For more details on these 10 tips below, listen to my interview entitled The Fast Track to Quantum Wellness.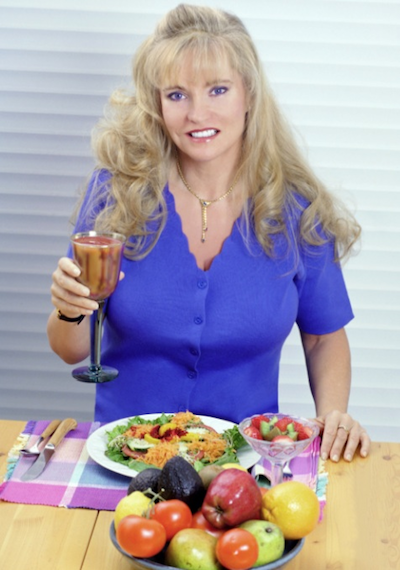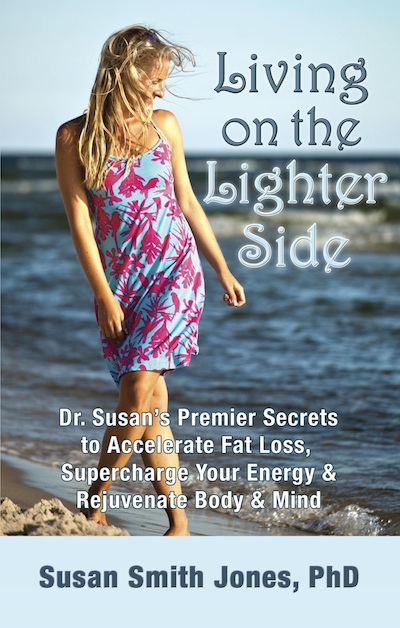 Here is a recent interview with me by UNITY that you might be keen on reading. I discuss some of my favorite tips for staying healthy and losing weight. As you'll see, these are all recommendations that work year-round, for all ages, no matter where you live on our magnificent planet. At the end of the article, you will find my Detoxify & Rejuvenate Smoothie Recipe — also perfect to enjoy 365 days a year! I will include some comments in blue to suggest my favorite products and where to get them easily.
INTERVIEW WITH SSJ

Susan Smith Jones, PhD, hasn't been sick in over 30 years. She doesn't receive flu shots or take medications. Some people may call it clean living, others may credit luck, but Jones attributes her phenomenal health to the wisdom passed down from her grandmother who taught her to rely on nature's nourishment—food, spices, herbs and healthy lifestyle choices— for total wellness.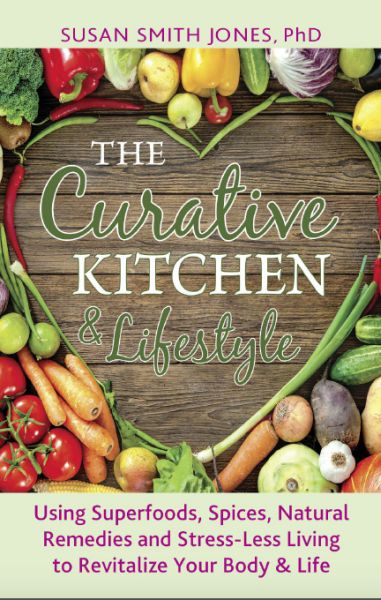 Jones has made it her life's mission to spread this wisdom, first as a teacher for more than 30 years at the University of California, Los Angeles (UCLA), and by establishing herself as a foremost expert on diet, nutrition and natural remedies, writing more than 2,000 magazine articles on health and 27 books, including Walking on Air,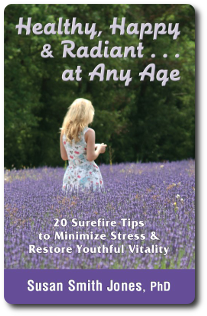 Healthy, Happy & Radiant...at Any Age, Living on the Lighter Side, The Curative Kitchen & Lifestyle, The Joy Factor, and for children, Vegetable Soup/The Fruit Bowl.
When it comes to creating vibrant health season after season, Jones said we should look to the "super foods" and other lifestyle choices for healing the body, boosting immunity, and feeling energetic and youthful... at any age. Each day when you wake up, she says, can be a new beginning, a fresh start where you commit to the healthiest lifestyle possible. She reminds us that we are the President and CEO of our body and our life and we need to make our health a top priority day in, day out.
Here are her top tips for staying well — mentally, physically and spiritually — this season and beyond.