chlorophyll
Sprouts: The Miracle of Germination
Special Package Offer & Recipe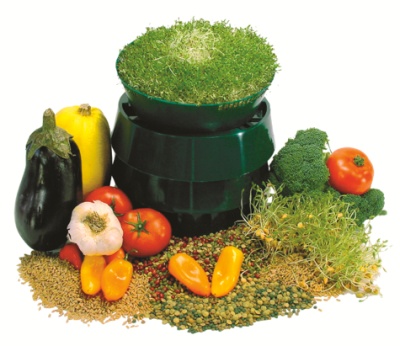 When I finished writing my newly released 2-book set on simple ways to experience optimal wellness and to create your best life — Walking on Air: Your 30-Day Inside and Out Rejuvenation Makeover and The Joy Factor: 10 Sacred Practices for Radiant Health, it was indeed a great celebration for me. What began years ago as ideas and visualizations in my mind of what I wanted to do and create germinated into books that people are now enjoying worldwide. Throughout this figurative germination process of bringing these books to fruition, the sprouts I grow in my kitchen also go through a germination process a few times weekly.
If you have read any of the other material that I've written on this website about the health benefits of sprouts and how to grow them in your home, you already know of my passion for these life-giving gems of nature. As mentioned, my grandmother taught me how to grow sprouts and the importance of these nutrient-rich foods when I was a teenager, and they have been part of my health program and kitchen regimen ever since. What feels like years has now really been decades of enjoying the wonderful world of sprouting.
Yes, sprouts are the food for the future, a food you can grow in your kitchen — or almost anywhere in your home or office — for mere pennies and they're packed with a powerful nutritional punch. When you sprout a seed, such as alfalfa or broccoli, it goes through a very special process called germination. During germination, seeds become alive and undergo many fast internal changes. And the great miracle of this amazing process is a huge increase in a host of nutrients, which are miraculously created inside the sprouting embryo. Below are some of the things that take place in the germination process.
The Healing Benefits of Broccoli Sprouts & Wheatgrass Juice
Special Package Offer & Recipe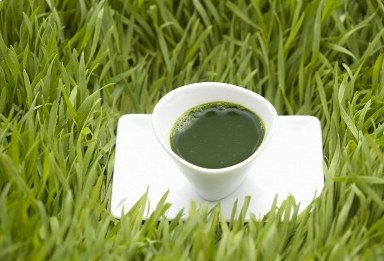 Previously, I wrote about growing wheatgrass in your home and juicing it. I have grown my own wheatgrass for juicing or have purchased freshly-made wheatgrass juice at juice bars and natural food stores for decades. Sprouted wheat that grows into wheatgrass about 8 inches long is a potent source of concentrated nutrition. As it grows, wheatgrass concentrates chlorophyll and other nutrients in preparation for becoming a big, fruitful plant. Wheatgrass itself is not digestible in our stomachs because it is too full of cellulose and other indigestive fibers. But when juiced and strained, all the nutrients are freed up and are readily assimilable by the body. And wheatgrass juice is a very powerful overall body detoxifier. Its high chlorophyll content cleanses the liver, tissues, and cells and purifies the blood. Placed in the nose, a few drops can reduce inflamed nasal passages and sinuses, relieving congestion without chemicals. Gargling will help relieve a sore throat. Wheatgrass is an excellent natural mouthwash and breath deodorizer. It will leave the breath smelling naturally fresh while nutrifying the gums and delicate tissues of the mouth. Some have used it on the skin to relieve pain and skin problems.
The Handy Pantry Company has a variety of wheatgrass juicers from which to choose, as well as Wheatgrass Kits and organic wheat seeds. Their team of experts can help you make the best choices for you. As I mentioned last time, wheatgrass and other sprout juices are best taken right after juicing for highest nutritional content. You can refrigerate for a day or two if you use an airtight jar. It will keep for a longer period if frozen quickly right after juicing. Wheatgrass juice is a super tonic for the whole body; it's rich in antioxidants, enzymes, simple sugars, chlorophyll, vitamins, and minerals. Before I extol the virtues of broccoli sprouts, below is some more information on the healing benefits of wheatgrass juice and how it became popular. Also, you'll enjoy this short YouTube Video of an American 48-state trucker who grows wheatgrass and sprouts in the cab of his truck. If he can grow it on the road while he's working, we can certainly grow the wheatgrass and other sprouts in our kitchens.