barley
Sprouts: A Treasure Trove of Nutrients & Vitality Galore
Special Package Offer & Recipe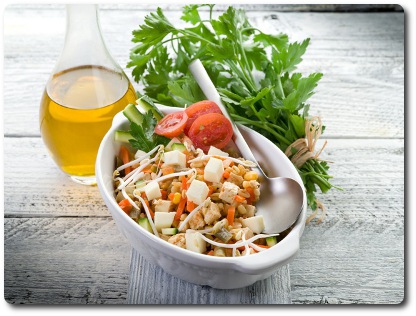 In his glorious poetry collection entitled Leaves of Grass, Walt Whitman wrote: The smallest sprout shows there is really no death. As a food, sprouts are approximately 5,000 years old. In 2939 B.C., the emperor of China wrote about their versatile qualities, and these little gems still remain one of the most nutritious foods on earth. The humble sprout truly is one of nature's most amazing creations. If you'd like to listen to an interview I did on the ABC's of growing and consuming sprouts, visit the homepage playbox on my website or click HERE.
When I was a teenager, my grandmother taught me how to grow sprouts and educated me on their benefits for healing the body and restoring vitality. Consuming and growing sprouts has been dear to my heart for 40 years. If you were to visit my kitchen today as I'm writing this, you would find the following sprouts growing with some ready to harvest and others in the early soaking stages: Red Clover, French Blue Lentils, Red Lentils, Garbanzo, Alfalfa, Radish, Sunflower Seed, and Wheat Grass. For years, I've purchased my organic sprouting seeds (I always get organic seeds for sprouting) through this top-notch company — Handy Pantry. It's a family-run business with a commitment to excellence and a contagious passion for the best sprouting seeds and a variety of sprouting supplies.
If you read any of the previous six blogs about sprouts and growing them, it's already evident to you that I have a passion for sprouts — eating them, growing them, and teaching others of their nutritional value and life-enhancing qualities. Whether you enjoy alfalfa sprouts, lentil sprouts, red clover sprouts, or sunflower seed sprouts, or perhaps you've never tried any sprouts at all and want to learn more about them, here's some information on the nutritional value of a variety of sprouts with some simple suggestions on how you can incorporate them into your diet. In this blog, I'll feature the nutrients found ln the sprouts of Barley, Broccoli, Buckwheat, Chinese Cabbage, Fenugreek, Garbanzo, Green Pea, Lentil, Mung Bean, Radish, Red Clover, Red Winter Wheat, and Sunflower Seed Sprouts. Here's a 2-part radio interview I did on the program Bloom Talk that you might enjoy where I talk about my passion for growing sprouts and using them to help heal the body and mind. Click HERE to listen.