Many Reasons (And Studies) To Take Spirulina
SPIURLINA: A Premier Superfood For Glowing Health & Youthful Vitality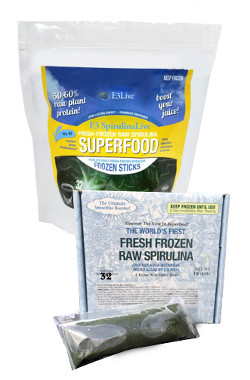 The World's Best Spirulina —
E3 SpirulinaLive

An article in a recent issue of the peer-reviewed journal Current Pharmaceutical Biotechnology discussed the use of spirulina in managing people's health. The summary (known as the abstract) was so off-the-charts positive about spirulina that I am quoting it for you here.
"Spirulina is a photosynthetic, filamentous, spiral-shaped, and multicellular edible microbe. It is nature's richest and most complete source of nutrition. Spirulina has a unique blend of nutrients that no single source can offer. The algae contains a wide spectrum of prophylactic and therapeutic nutrients that include B-complex vitamins, minerals, proteins, gamma-linolenic acid, and the super antioxidants, such as beta-carotene, vitamin E, trace elements, and a number of unexplored bioactive compounds. Because of its apparent ability to stimulate whole human physiology, spirulina exhibits therapeutic functions such as antioxidant, antibacterial, antiviral, anti-cancer, anti-radiation, anti-inflammatory, anti-allergic, and anti-diabetic, plus a plethora of additional beneficial functions. Spirulina consumption appears to promote the growth of intestinal micro flora as well."

In another article published in the same journal in 2005, research scientists at Bundelkhand University in Jhansi, India, wrote: "Preparations (of spirulina) have been found to be active against several enveloped viruses including herpes virus, cytomegalovirus, influenza virus and HIV." An enveloped virus is one that has a tough, fatty outer covering so these type of virii are difficult to kill. These scientists wrote that spirulina could even stop cancer from spreading, protect tissues, and reduce toxins in the liver, kidneys, and testes because of it's antioxidant properties.

The World Freshest & Best Spirulina! • Ordering Info

E3 SpirulinaLive is a nutrient dense blue-green algae. Their spirulina is never dried or processed. It is frozen fresh as a liquid and closest to its natural state, providing easily absorbed and assimilated nutrition. They guarantee you will "feel the difference!" E3 SpirulinaLive has 50-60% complete protein by dry weight basis with over 50 nutrients needed by your body. I take this revolutionary breakthrough superfood algae daily. Keep it frozen until use. It's an amazing product and the only one like it in the world — so fresh, unheated, nutrient-rich, easy to use, and versatile.

No taste, no smell, single-serve convenient packets in E3 SpirulinaLive. Add it to smoothies and any recipe you want to increase the nutritional value.
To order by telephone, call: 888-800-7070 (US & Canada) or 541-273-2212 (Intl), both PT, M - F • 8 - 4. Their product specialist can answer all your questions.
Traveling for Business, Vacation or Holiday? Two Nutritional Supplements to Take Along

If you are traveling this summer (or winter if you're north of the equator), strive to pack as lightly as possible and always remember to take your nutritional supplements with you, like this dog in the photo. (His doggy supplements are hiding inside.) Years ago, when traveling, I used to take an entire carry-on case to hold all of my nutritional supplements. It was embarrassing for me when the TSA security person would open up the tote and take everything out — place all of the many bottles on the counter. He or she would frequently even ask me what e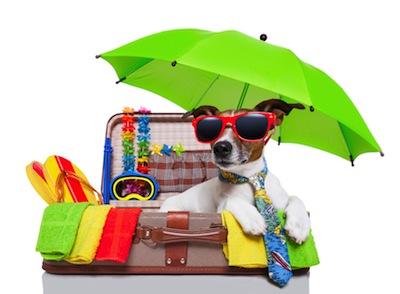 ach supplement was for. I always wanted to be prepared and to keep myself as healthy as possible when flying and visiting people and companies in different countries.

Now it's really easy for me. I bring some E3-AFA capsules and Blue Majik powder to help keep me energetic and vibrantly healthy when traveling. There is Spirulina in their Blue Majik.
In addition to these two supplements, I usually bring capsules of ginger to take before and during the flight to help with any potential motion sickness, in case the flight is bumpy.
For some Blue Majik Cocktail Recipes, please click HERE. The photos below are from the recipes.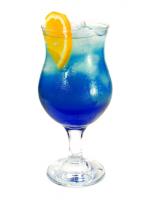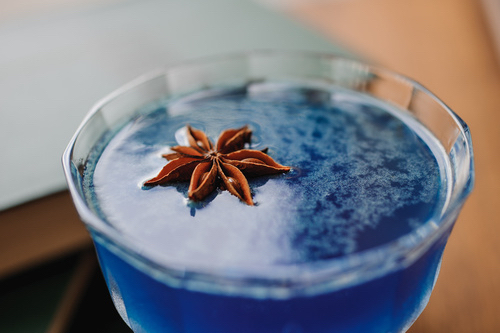 ---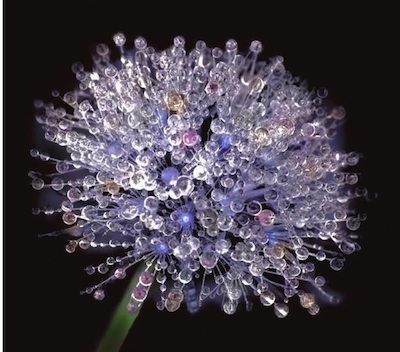 A man too busy to take care of his health is like a mechanic too busy to take care of his tools.
~ Spanish Proverb
Be careful about reading health books. You may die of a misprint.
~ Mark Twain