Sprouting Your Way to Vitality Part 6
The Healing Benefits of Broccoli Sprouts & Wheatgrass Juice
Special Package Offer & Recipe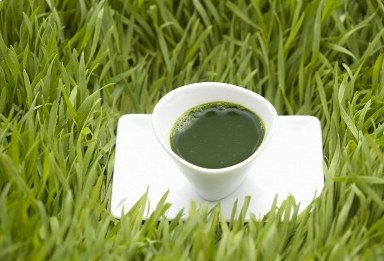 Previously, I wrote about growing wheatgrass in your home and juicing it. I have grown my own wheatgrass for juicing or have purchased freshly-made wheatgrass juice at juice bars and natural food stores for decades. Sprouted wheat that grows into wheatgrass about 8 inches long is a potent source of concentrated nutrition. As it grows, wheatgrass concentrates chlorophyll and other nutrients in preparation for becoming a big, fruitful plant. Wheatgrass itself is not digestible in our stomachs because it is too full of cellulose and other indigestive fibers. But when juiced and strained, all the nutrients are freed up and are readily assimilable by the body. And wheatgrass juice is a very powerful overall body detoxifier. Its high chlorophyll content cleanses the liver, tissues, and cells and purifies the blood. Placed in the nose, a few drops can reduce inflamed nasal passages and sinuses, relieving congestion without chemicals. Gargling will help relieve a sore throat. Wheatgrass is an excellent natural mouthwash and breath deodorizer. It will leave the breath smelling naturally fresh while nutrifying the gums and delicate tissues of the mouth. Some have used it on the skin to relieve pain and skin problems.
The Handy Pantry Company has a variety of wheatgrass juicers from which to choose, as well as Wheatgrass Kits and organic wheat seeds. Their team of experts can help you make the best choices for you. As I mentioned last time, wheatgrass and other sprout juices are best taken right after juicing for highest nutritional content. You can refrigerate for a day or two if you use an airtight jar. It will keep for a longer period if frozen quickly right after juicing. Wheatgrass juice is a super tonic for the whole body; it's rich in antioxidants, enzymes, simple sugars, chlorophyll, vitamins, and minerals. Before I extol the virtues of broccoli sprouts, below is some more information on the healing benefits of wheatgrass juice and how it became popular. Also, you'll enjoy this short YouTube Video of an American 48-state trucker who grows wheatgrass and sprouts in the cab of his truck. If he can grow it on the road while he's working, we can certainly grow the wheatgrass and other sprouts in our kitchens.
Growing wheatgrass, buckwheat, and sunflower sprouts, as well as juicing them, seems to stem back to the 70's to Ann Wigmore and Victoras Kulvinskas. The Boston Institute of Health advocated these methods long before it became a national fad. Ann Wigmore was a hero in the Natural Health movement and left a legacy of books such as The Wheat Grass Book, The Sprouting Book and others.
Because of her insight about the benefits of wheatgrass juice, it seems like everyone now has heard of wheatgrass. The structural breakdown of wheatgrass is so concentrated that one ounce of wheatgrass has the same nutritional value as 2.5 pounds of green garden vegetables. I usually drink 1-2 ounces several times a week either made fresh at home or from an organic juice bar in my neighborhood or other places such as natural food stores when I travel. There are many other benefits to be found in wheatgrass besides vitamins, minerals, and amino acids. It's immensely rich in chlorophyll, which is known for its ability to nourish the blood and detoxify poisons in the body. Wheatgrass is also a powerhouse of enzymes. Enzymes help the digestion and metabolism of nutrients. Additionally, it is a source of Abscisic acid, a plant hormone which is known for its anti-tumor activity.
When you purchase a Wheatgrass Kit from the Handy Pantry, you can grow your own wheatgrass for pennies per day! Experience the miracle health benefits of indoor gardening with your own Wheatgrass Kit.
Broccoli Sprouts: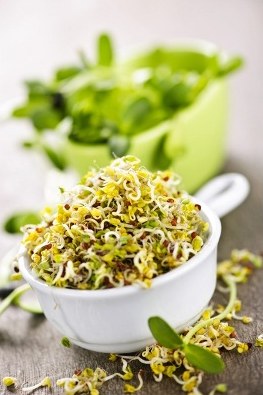 Broccoli sprouts are one of the healthiest foods you can eat in the world. You can make them easily in the comfort of your kitchen for pennies! I always make a batch of fresh broccoli sprouts each week and enjoy them in a variety of recipes. All members of the cruciferous family of green vegetables (including broccoli, kale, and spinach) offer a wide range of benefits. Rich in iron, chlorophyll, carotenoids, lutein, zeaxanthin, indoles, vitamins A and C, and fiber. Broccoli and broccoli sprouts also contain a powerful antioxidant "sulphoraphane" which helps human cells fight the progression of free radicals. A study of researchers at John Hopkins University reveals that broccoli sprouts have up to fifty times more anti-cancer chemicals in them than in the mature vegetable itself.
The delicate sprouts of broccoli provide vitamins A, B, C; potassium and the phytochemicals sulforaphane; indoles and isothiocyanate. Research suggests these phytochemicals may reduce the risk of breast, stomach, and lung cancers.
Broccoli sprouts resemble alfalfa sprouts but they have more flavor. If you don't like to eat broccoli, then the sprouts will be perfect for you. It takes only three days to grow them from seeds, whereas it takes 55 to 70 days to grow a mature broccoli plant.
I get my organic broccoli seeds through Handy Pantry and grow these sprouts using both the glass jar method and the tray method (see previous blog). It's so easy to grow them that the children in your family can take over this job. And it only takes a few minutes over 3-4 days to grow and harvest this most tasty, nutritious treat. I encourage you to make a fresh batch every week. Your body will thank you and your health will soar. For more information about growing broccoli sprouts or wheatgrass, or to order organic sprouting seeds and other supplies, please visit their website or call them: HandyPantry.com or 1-800-735-0630 (US & Canada) or 801-491-8700 (Intl), both MT.
---
For ways to use all kinds of sprouts in recipes, please refer to my full-color recipe and nutrition book Recipes for Health Bliss. With each purchase of this book, you can get a Bonus Gift, just for the asking, of my booklet/CD combo Herbs: Nature's Medicine Chest. To take advantage of this offer, call the Penn Herb Company: 1-800-523-9971 (US & Canada) or 215-632-6100 (Intl), both ET.