Sprouting Your Way to Vitality Part 5
How to Grow Sprouts & Wheatgrass
Special Package Offer & Recipe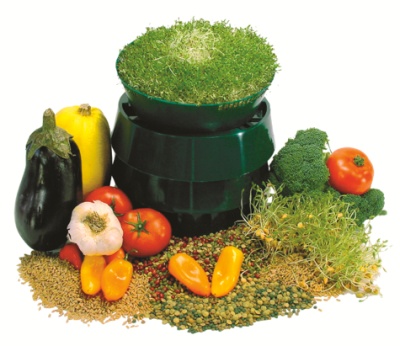 Good sprouting technique doesn't take a "green thumb," just paying attention to four factors: the right amount of moisture, the correct temperature, the free circulation of air, and minimal light. By rinsing them a couple of times daily, you keep them moist. You also wash away carbon dioxide and other metabolic wastes that could cause souring or spoiling. Using cool water when rinsing ventilates and cools the sprouts to prevent overheating. Proper draining prevents excessive moisture that can cause mold and rot. The ideal sprouting temperature depends on the seed, but generally lies between 70° and 85°. To protect the tiny growing things, keep sprouting containers away from cold drafts, direct heat, or any light. For free air circulation, at least one-third of the container must be empty. Sprouts expand 6 to 10 times over a few days, so give them plenty of room to grow. Sprouts are very light sensitive and need to be covered during the early stages of the growing cycle, as you'll learn in the instructional booklet that comes with your organic sprouting seeds and supplies from HandyPantry.com. Here are the six rules of sprouting:
Rinse often.
Keep them moist, not wet.
Keep them at room temperature.
Give them plenty of room to breathe.
Don't put too many in any one container.
Keep them covered — no light.
Here's another point to keep in mind. although bulk seeds, beans, and grains may appear cheaper than the Handy Pantry seeds, it may not be to your advantage to use them for sprouting. Unless they are packaged as high-germination sprouting seeds, only part of them may sprout. This means that some seeds may ferment and spoil the whole batch. You will have to pick out the unsprouted seeds one by one. Otherwise, any you leave in will add hard spots and a bitter taste to what should be a succulent mass of tender, tasty sprouts.
The Jar Method: This is by far the oldest and most popular method, as well as one of the easiest. All you need is a standard wide mouth, threaded, quart, half-gallon, or gallon glass jar. One technique is to cover the mouth of your sprouting jar with a muslin, cheese-cloth or nylon mesh screen secured with a rubber band over and around the top. This will work, but the screen is subject to mold and mildew build-up and is not as easy as using special sprouting lids designed specifically for this purpose.
The Handy Pantry offers a number of jar sprouters in plastic and glass to choose from (seeds included), as well as the single polyetheline screen cap to add to your own wide mouth jar. Whatever the method or type used, the idea is to rinse away the unnecessary hulls for cleaner, fresher sprouts. It's a simple 6-step process that you follow. Pictures of this process are available in the Handy Pantry booklet that comes with your order. The steps include soaking, draining, rinsing, harvesting, greening, and refrigerating and it takes only a few minutes a week to get the the process.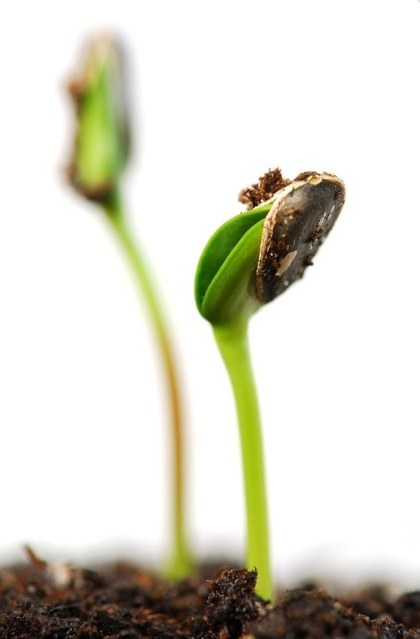 The Tray Method: This method is just as easy as the jar method. It is also the best way to sprout several kinds of seeds such as beans and grains at the same time. One of the best sprouting trays for this purpose is the "Sprout Garden" by Handy Pantry. I use both this garden system and different sizes of glass jars throughout the week. The bottom of their Sprout Garden sprouting tray is covered with holes for good drainage, and will keep even the smallest seed from falling through. The dividers give an advantage over the jar method by allowing you to sprout different seeds separately in each compartment. The depth of the tray and the many holes promote good air circulation. The protective cover keeps out dust, mold spores, and insects. Another popular use is to plant an indoor garden with soil. The Sprout Garden is very handy for quickly producing a fine crop of wheatgrass, sunflower, or buckwheat lettuce in just a few days. I use the Sprout Garden for making both seed sprouts like red clover, alfalfa, and broccoli, as well as for making wheatgrass, sunflower, and buckwheat lettuce. Complete directions come with the Sprout Garden when you purchase it from Handy Pantry.
The Salad Mixes: There are three pre-mixed salad combinations that I get through Handy Pantry that you will enjoy, too. The 3-part salad mix contains alfalfa, Chinese cabbage, and radish seed. When sprouting, they "fluff up" together into a delightful, tasty combination. They are good alone, together, or mixed with other salad fixings. The 5-part salad mix contains mung beans and lentils besides the above three. This creates a denser, higher fiber salad. Or this mix can be added to soups for a hearty flavor and nutritional boost. The bean salad contains mung and adzuki beans with lentils and radish seed. Adzuki beans are high in fiber, protein, calcium, iron, vitamins A, B-1, B-2, and niacin. This combination is good by itself, or added to various vegetable dishes. The salad mixes can be sprouted using either the jar or tray methods.
The Soil Method: This method is optional for sprouting sunflower or fenugreek and is essential for growing buckwheat lettuce and wheatgrass for juicing. It requires a few special materials and is well worth it. You will need to begin with the following:
2 cups of sprouting wheat, sunflower, or buckwheat seeds

1/2-gallon jar or large tray for initial sprouting

Seedling tray, roughly 18" x 18" from a garden supply store

Growing soil to cover seedling tray 2" deep (use a sifted forest mulch from a nursery -- organic, if they have it)

Watering can equipped with a sprinkler head

8 sheets of newspaper and a sheet of dark plastic cut to size of seedling tray

Mister-spray bottle

Serrated knife or scissors

Juicer

While initially this may sound complicated, once you have the materials and have experimented with this process a couple times, it will become like second nature to you. The Handy Pantry has a Wheatgrass Kit that will help you begin your process and it comes with detailed instructions on how to use the soil method. They also have a variety of Wheatgrass Juicers from which to choose. It is definitely worth it to invest in a good wheatgrass juicer, if you are going to grow your own wheatgrass and juice it. I have three different juicers that work well for wheatgrass that I use personally and also use in my culinary and sprouting classes. The superb team of experts at Handy Pantry will help you choose what would be best for your needs.
Wheatgrass and other sprout juices are best taken right after juicing for highest nutritional content. You can refrigerate for a day or two if you use an airtight jar. It will keep for a longer period if frozen quickly right after juicing. Wheatgrass juice is a stellar tonic for detoxifying and rejuvenating the body because it is high in all the antioxidants, enzymes, and simple sugars for quick energy and overall body renewal.
I highly recommend the Handy Pantry Company — my favorite source for organic sprouting seeds and supplies such as sprout-growing kits, wheatgrass kits and wheatgrass juicers, microgreen kits, herb kits, and so much more. For more information or to order organic sprouting seeds and other supplies, please visit their website or call them directly and their team will help you select the best seeds and supplies for you: HandyPantry.com or 1-800-735-0630 (US & Canada) or 801-491-8700 (Intl), both MT.