Sprouting Your Way to Vitality Part 4
Take Loving Care of Yourself: Using Sprouts & Raw Foods to Detoxify, Heal & Rebuild Your Body
Special Package Offer & Recipe
I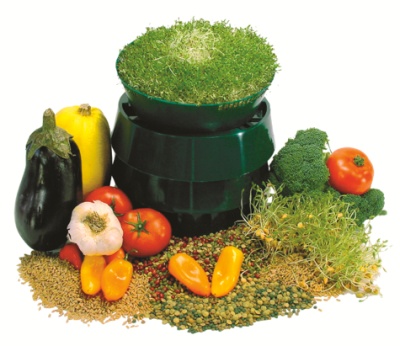 n this series of articles on the health benefits of sprouts, live foods, and healthy living, you are learning about why sprouts are my all-time favorite superfood and my passion for educating others about their life-giving attributes. I learned about the nutritional benefits of sprouts from my grandmother as a teenager and have also gathered much information from the premier company for all-things-sprouting — HandyPantry.com. Before I highlight some more benefits of sprouts, let's take quick look at how miraculous is the human body and its ability to heal itself, if given to right food and loving care.
What happens when you cut your finger? It heals itself. It's a miracle to me. Sometimes though — due to our carelessness — it festers, becomes infected, and begins to give us pain. Pain is our body's signal to us that it needs help. With a cut finger, the course of action is obvious. Clean it and disinfect it. But what about tiny, invisible "cuts" that we can't see, which are happening inside our bodies all the time? What do we do about subtle messages of pain coming from them? Too many of us reach for the nearest chemical "pain-reliever," when we could be doing something more — and better. There is a sword stabbing inside our bodies. A sword which is cutting a swath of ill health in millions of Americans and people worldwide.
Our bodies are being damaged inside, invisibly and mercilessly, by toxic chemical reactions. Toxic chemical additives and hazardous wastes in our air, water, and food supplies will continue to pervade our living and working environments. These toxins are returning to us in everything we eat, drink, and breathe. Thankfully, though, much of the internal damage they do heals automatically, like that cut on our finger. However, when our body is not adequately nourished, it can't neutralize and expel these poisons fast enough, as I write about in my booklet/CD combo Detoxify & Rejuvenate: Dr. Susan's Gold-Star Secrets to Beautiful Skin, a Leaner Waistline & Energy to Spare (which you can get as a Bonus Gift when you purchase my new 2-book set Walking on Air and The Joy Factor through the Penn Herb Company numbers at the end of this article). They build up in our body, and so does the invisible damage they do. Toxic build-up can severely damage our immune system. So how do sprouts help heal the body?
A body that is toxic is like a cut with dirt in it. It is contaminated and may not heal properly. It needs to be cleaned and given the nutrients it needs to disinfect, detoxify, rebuild, and heal itself. Many of us have already recognized this fact of life and have altered our lifestyles to avoid as many chemicals as possible. Some of us have also recognized this fact of health and are being more careful about our nutrition. There is a food source in Nature that's full of concentrated nutrients that can help our body detox and rebuild our immune system. I'm sure you can guess the food. That's right — the answer is sprouts. This is a story about another miracle. A tiny one that we may have overlooked. Consider the parable of the mustard seed. Inside this tiny little seed rests the future mighty plant. A plant that will be many times larger than that tiny germ of life from which it sprouts. A plant that will produce many more seeds, each with another plant resting inside. The mustard seed, then, is much more than a symbol of infinity and of man: it is infinity itself in living form.
Every seed is a plant embryo, waiting for the right conditions to respond with life and germinate into a shooting plant body. Some, like ancient Egyptian wheat, wait for thousands of years. When a seed meets the right combination of moisture, air, and temperature, it begins to sprout forth very fast. Just like us, it strives to emerge into the world with a healthy body and to grow up big and strong. For this reason, sprouting seeds produce a wide and abundant array of concentrated vitamins, minerals, trace elements, enzymes, growth hormones, amino acids, simple sugars, essential fatty acids — all of which are essential to human health as well. These nutrients are charged with energy — the energy of life. Instead of nine months, however, these sprouts are ripe and ready for the world in just a few days.
Live foods — of which sprouting seeds, beans, and grains are but one category — are beneficial, natural sources of concentrated healthful nutrition. Sprouts can help a body that is constantly exposed to toxic chemicals and is undergoing immune system decline. If we include sprouts in our diets, we give our body the nutrients and energy it needs to cleanse, detoxify, rebuild, and heal itself. Then those over 70 trillion tiny cells that make up our comparatively enormous body can continue to do what they do best — keep us alive, alert, and feeling vibrantly healthy.
Please keep in mind the following points when you grow sprouts. To prevent infestation and mold, seeds used for planting are treated with chemical pesticides, fungicides, and mercury coatings that can be highly toxic. Imported seeds are required by law to be dyed for identification. Therefore, for your own protection, heed this warning: Never sprout seeds, beans, grains, etc. that have been chemically treated or dyed. Sprout only those seeds that have been explicitly certified as edible. Purchase them from a reliable source. In addition, never sprout for eating any seeds that have even the tiniest amount of mold. Growing molds can produce mycotoxins, which can cause food poisoning. For this reason also, you should thoroughly clean all sprouting containers after each use, preferably in hot, soapy water with a scrub brush. For more detailed information on the ABC's of growing and enjoying sprouts, click HERE.
As mentioned previously, I always purchase my organic sprouting seeds and supplies from the Handy Pantry Company — the foremost sprouting company in America with the best prices and products available. You can be assured that you are getting the best quality organic seeds, too. Visit: www.HandyPantry.com or call: 1-800-735-0630 (US & Canada) or 801-491-8700, both MT, for more information or to order organic sprouting seeds, sprouting kits, wheatgrass kits, microgreen kits, herb kits, and much more!
---
For more information on growing sprouts, please refer to the chapter titled Sprouting Your Way to Vitality in my full-color recipe and nutrition book Recipes for Health Bliss: Using NatureFoods & Lifestyle Choices to Rejuvenate Your Body & Life. It contains over 150 color photographs and 250 delicious, nutritious recipes. With each purchase of this book, you can get as a Bonus Gift, my booklet/CD combo titled Culinary Herbs: Discover the Healing Secrets in Your Spice Rack. To take advantage of this offer, call the Penn Herb Company at 1-800-523-9971 (US & Canada) or 215-632-6100 (Intl), both MT.