Sprouting Your Way to Vitality Part 3
Sprouts: The Miracle of Germination
Special Package Offer & Recipe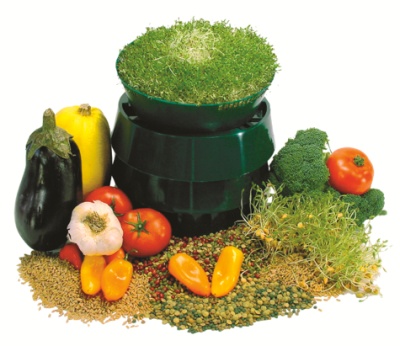 When I finished writing my newly released 2-book set on simple ways to experience optimal wellness and to create your best life — Walking on Air: Your 30-Day Inside and Out Rejuvenation Makeover and The Joy Factor: 10 Sacred Practices for Radiant Health, it was indeed a great celebration for me. What began years ago as ideas and visualizations in my mind of what I wanted to do and create germinated into books that people are now enjoying worldwide. Throughout this figurative germination process of bringing these books to fruition, the sprouts I grow in my kitchen also go through a germination process a few times weekly.
If you have read any of the other material that I've written on this website about the health benefits of sprouts and how to grow them in your home, you already know of my passion for these life-giving gems of nature. As mentioned, my grandmother taught me how to grow sprouts and the importance of these nutrient-rich foods when I was a teenager, and they have been part of my health program and kitchen regimen ever since. What feels like years has now really been decades of enjoying the wonderful world of sprouting.
Yes, sprouts are the food for the future, a food you can grow in your kitchen — or almost anywhere in your home or office — for mere pennies and they're packed with a powerful nutritional punch. When you sprout a seed, such as alfalfa or broccoli, it goes through a very special process called germination. During germination, seeds become alive and undergo many fast internal changes. And the great miracle of this amazing process is a huge increase in a host of nutrients, which are miraculously created inside the sprouting embryo. Below are some of the things that take place in the germination process.
Water absorption swells the sprouting seeds from 6 to 10 times their normal size, under tremendous dynamic pressures per square inch.

Enzymes immediately become active and create a host of nutritional changes.

Proteins are converted into free amino acids.

Starches change into simple plant sugars.

Minerals chelate, or combine in a way that increases their assimilation.

Vitamin content increases from 3 to 12 times.

Chlorophyll and carotene content increase dramatically when they are exposed to sunlight.
Wheat sprouts, for example, contain four times more folic acid and six times more vitamin C than unsprouted wheat. (One of the best nutritional foods you can consume is fresh wheatgrass juice.) In studies at the University of Pennsylvania, vitamin C content in some seeds was found to increase up to 700% in just the first 72 hours of sprouting! For this reason, some fresh sprouts contain more vitamin C than citrus juices. This also applies to vitamins A, E, the B-complex and others, depending on the variety of seed sprouted. A Yale University study of grains, seeds, and beans showed that sprouting substantially increases all B-vitamins from 20% to 600%. Vitamin E content increases 300% in sprouted wheat after four days of sprouting.
Sprouts are complete foods. Their proteins are called "complete proteins" because in correct combinations they contain all the essential amino acids. They are also called "complete foods" because they contain all other essential dietary nutrients, along with the enzymes to help assimilate them. Simple plant sugars such as maltose are easily digested and enter the bloodstream quickly. For this reason, sprouts are also classed as "quick-energy" foods. Sprouts are live foods because they are living plants.
Next time, we'll take a closer look at some of my most favorite, delicious, and nutritious sprouts and other ways they benefit your body. In the meantime, I hope you'll start growing fresh sprouts in your kitchen. With only a few minutes weekly, and taking up little space in your kitchen, you can grow, harvest, and enjoy fresh sprouts weekly. I purchase my organic sprouting seeds and supplies from the Handy Pantry Company — the premier sprouting company in America with the best prices and products. For more information, contact www.HandyPantry.com or 1-800-735-0630 (US & Canada) or 801-491-8700 (Intl), both MT, to order organic sprouting seeds, sprouting kits, wheatgrass or microgreen kits, and so much more!
---
For detailed information on the wonderful world of sprouts, how to grow them, how to incorporate them into recipes, and which foods should be part of your health-promoting diet, please refer to my full-color recipe and nutrition book Recipes for Health Bliss: Using NatureFoods & Lifestyle Choices to Rejuvenate Your Body & Life and my other book Be Healthy~Stay Balanced: 21 Simple Choices to Create More Joy & Less Stress. When you purchase either of these books through the following numbers, you will get a Bonus Gift, just for the asking, of my booklet/CD combo Herbs: Nature's Medicine Chest. To take advantage of this offer, call the Penn Herb Company: 1-800-523-9971 (US & Canada) or 215-632-6100 (Intl), both ET.