Sprouting Your Way to Vitality Part 2
Reasons to Grow Sprouts in Your Home
Special Package Offer & Recipe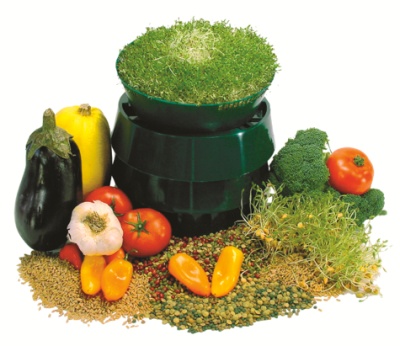 In the last blog, I introduced you to the wonderful world of sprouts. I will continue this blog series on homegrown sprouts and all of their benefits in the hopes that you, too, will catch the passion for growing and consuming more life-giving, nutrient-rich sprouts. Growing and eating sprouts has been one of my greatest passions for decades and I am never without fresh sprouts growing in my kitchen. Besides their nutritional advantage that I wrote about in the previous blog, sprouted seeds, beans, and grains have several other sterling attributes that make them an ideal addition to your regular diet and a prime food source in times of need. Sprouts are economical; ecological; toxin-free; easy to store; low in calories and fat; tasty and versatile; and simple, easy, fast to grow. Below I will write in more detail about all of these categories. I have also devoted an entire chapter (Sprouting Your Way to Vitality) to the wonderful world of sprouts and how to grow them in my full-color recipe and nutrition book Recipes for Health Bliss: Using NatureFoods & Lifestyle Choices to Rejuvenate Your Body & Life. If you are interested in learning more about sprouts, losing weight, looking younger, boosting energy, and preparing healthful, delicious meals the entire family will love, then this celebrated recipe book is perfect for you. It has over 150 color photographs in the book and is beautifully designed — every page — in magnificent color. Louise Hay, world-renowned author and publisher said about this book: "It's the most beautiful health book on the planet."
Check out this YouTube Video of a truck driver who grows wheatgrass and other sprouts in the cab of his truck as he's driving across the country. After seeing this short video, you'll have a better idea of how easy it is to grow sprouts in the comfort of your kitchen and other rooms of your home.
With all of the media work I do on sprouting-related topics — including radio and TV talk shows — I am always asked where I recommend purchasing supplies. I highly recommend the Handy Pantry Company — the premier source for organic sprouting seeds and supplies such as sprout-growing kits, wheatgrass kits and wheatgrass juicers, microgreen kits, herb kits, and so much more. For more information or to order organic sprouting seeds and other supplies, please visit their website or call them: HandyPantry.com or 1-800-735-0630 (US & Canada) or 801-491-8700 (Intl), both MT.
Economical: One tablespoon of seeds, costing less than 50 cents, will fill a quart jar with several ounces of delicious, ready-to-eat sprouts. A 4-ounce package will yield several pounds. And this concentrated nutrition is alive — something that can't be said for most nutritional supplements that cost much more.
Ecological: Because they are such nutritional powerhouses, their food value is much higher than most other foods per unit of production cost. This conserves energy and saves processing, packaging and storage costs. And it also avoids "denaturing" and toxic build-up in the food itself.
Toxin-Free: Sprouts are as sweet and pure as Nature intended food to be. When completely natural and organic and sprouting with clean water, they can be free of toxic resides. The Handy Pantry offers only natural (non-hybrid, non-treated, and microbial tested), sprouting seeds with up to 99% rates of germination, grown especially for sprouting.
Easy to Store: Seeds do not have to be frozen or preserved to keep them from spoiling. All they require is a few glass jars with airtight lids and a cool, dark storage area. They will store easily in very little space for a year or more. One small, lower shelf (heat rises, higher shelves are warmer) in a pantry will hold enough assorted seeds to feed an entire family for months. After sprouting, they can be placed in plastic bags or other containers in the refrigerator, again not requiring much space.
Low in Calories/Fat: Depending on protein content, one fully-packed cup of sprouts contains only 16 to 70 calories. And these are simple sugars for quick energy. Sprouts contain no cholesterol and provide essential fatty acids. Several, such as alfalfa and red clover (my favorite), are sweet and satisfying to the taste buds and the body. It is almost impossible to overeat raw, live foods like sprouts. They are the perfect weight-loss and body-purification food for the decade and beyond.
Tasty & Versatile: Bursting with flavor, you may be surprised how truly delectable they are. You can enjoy a wide variety of new taste sensations. Just add or substitute wherever you use vegetables. They take very little time to prepare when steamed, boiled, stir-fried, cooked or even baked into wholesome, homemade breads. My favorite way to eat sprouts is in their raw form. I even make scrumptious raw hummus using sprouted garbanzo beans, raw tahini, and other ingredients depending on the flavor desired. You will find several delicious, easy-to-prepare, and satisfying recipe ideas in my books The Healing Power of NatureFoods, Health Bliss, Be Healthy~Stay Balanced, and Recipes for Health Bliss.
Simple, Easy & Fast to Grow: This "garden in your hand" grows very fast in any weather with very little care. Most of them take less than a minute or two per day to grow and you can grow them year-round, nearly anywhere indoors (home or office or EVEN IN THE CAB OF A TRUCK) without any weather worries. No digging, planting, weeding, pests, or chemicals to worry about either. And no long wait, as in outdoor vegetable gardens. In just 2 to 7 days, you will have a nutrition-packed, bountiful harvest. When stored in your refrigerator, they will stay fresh for days — even weeks if rinsed properly. Because they require very little space and travel well, sprouts are the ideal vegetables for campers, boaters, and RV'ers, too. Complete, easy-to-follow instructions are available in all of the sprouting kits you get from the Handy Pantry Company. Specific instructions for each variety of seeds or seed mix are provided on the back of every Handy Pantry seed label, too. Keep in mind that homegrown and freshly harvested sprouts are much tastier and more nutritious than store-bought sprouts.
Here are some of my favorite sprouting seeds, beans and grains. Please refer to future blogs on this website for more detailed nutritional information on each one when sprouted. Alfalfa Sprouts, Barley, Broccoli Sprouts, Buckwheat Sprouts, Chinese Cabbage Sprouts, Fenugreek Sprouts, Garbanzo, Green Pea, Lentil Sprouts, Mung Bean Sprouts, Radish Sprouts, Red Clover Sprouts, and Red Winter Wheat Sprouts (I use this to grow wheatgrass and make wheatgrass juice).
As mentioned, I purchase my organic sprouting seeds and supplies from the Handy Pantry Company — the premier sprouting company in America with the best prices and products available. Visit: www.HandyPantry.com or call: 1-800-735-0630 (US & Canada) or 801-491-8700, both MT, for more information or to order organic sprouting seeds, sprouting kits, wheatgrass kits, microgreen kits, herb kits, and so much more!
---
With each purchase of my book Recipes for Health Bliss, or any of the other book titles mentioned above, you can get, just for the asking, a BONUS GIFT of my booklet/CD combo Culinary Herbs: Discover the Healing Secrets in Your Spice Rack. To take advantage of this offer, call the Penn Herb Company: 800-523-9971 (US & Canada) or 215-632-6100 (Intl), both ET.