Steps 2 & 3 of 8 in the series Metabolic Weight Loss & Body Tune-UP Tips
CLICK HERE to start with the Introduction.
Accelerate Fat Loss & Get Fit for Life in 8 Ea

sy

Steps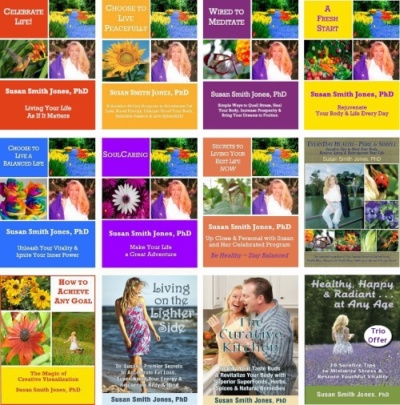 2. Increase your aerobic exercise. Aerobic exercise trains muscles to burn fat and increase metabolism. Aerobic exercise means exercising with oxygen, not being winded or out of breath. These types of exercises, which are fairly gentle and nonstop, change your metabolism and also train your muscles to burn more fat. Here's a key point to keep in mind. Muscles burn fat ONLY in the presence of oxygen. For example, if you're jogging with your husband and he's breezing along and singing a song, and you're so out of breath that you can barely put two syllables together, he's burning fat but your fat-burning mechanisms have shut down. Muscles burn two kinds of fuel—sugar (glucose) and fat. Your muscles really do prefer to burn fat because it's more efficient; there's more of it so it lasts a long time and it produces lots of energy.
Does that mean you shouldn't do high-intensity sprints every so often? No, as I'll explain below, but you must make aerobic exercise part of your fitness program at least 5 days a week if you want to lose fat and tone up. By using the big muscles of the thighs and buttocks in an activity that is steady and nonstop (such as cross-country skiing, bicycling, rowing, walking, and hiking), and makes you breathe deeply but doesn't make you out of breath, you're supplying oxygen to the muscles, which promotes fat burning in the muscles and makes you burn more food calories. Want to learn how to get fit as quickly as possible? Continue on.
3. Add higher intensity bursts to your exercise plan. I work in some high-intensity activity a few times each week. For example, if I'm hiking, I'll spend 30 to 90 seconds going faster than normal on a steeper hill interspersed with more level or declining grades. (Notice that I didn't say "a breakneck run." Just go a little faster than usual.) If you're cycling, pedal faster for several seconds. High intensity bursts of exercise help burn fat. Why? When you force your body to raise the level of intensity for a short burst of "getting winded," you are forcing your body to recover under stress; in other words, while you continue to exercise.
This little sprint adds intensity without causing injury. And those fat-burning enzymes are realizing that not only do they need to grow when you're doing regular aerobic activity, but now they must grow even faster. In other words, a few moments of exercising just a little bit harder than usual will help force you to recover while still exercising, which will burn more fat. If you're just a beginner and have never exercised before, wait for about one month before adding in these bursts of higher intensity workouts and then pump up the vigor if your doctor says you can.
---
FYI: Are you interested in transforming your life from a "spin-cycle" lifestyle to a "win-cycle" lifestyle? If so, then Renew Your Life: Choose to Live Fully, my special Complete Seminar Power Package, is perfect for you. You'll learn how to shed extra weight; reshape and tone your body; look and feel 10 years younger in 30 days; alleviate depression; release addictions; boost energy; detoxify and rejuvenate your body; use natural remedies from your kitchen; ignite your passion for life; achieve your goals in record-breaking time; experience high-level wellness; thrive in your relationships; attract unlimited abundance and prosperity; achieve business breakthroughs; and live with more peace and balance.
It's available at a discount for a limited time. Through Renew Your Life, I will become your personal health, lifestyle, and success coach. For over 30 years, I've been remunerated handsomely as a personal holistic lifestyle coach — imparting my favorite gold-star secrets to only a few select clients each year in America and worldwide. And now, you can have at your fingertips all of my quintessential, life-changing tools to excel in every area of your life. So, if you're ready to live your highest vision and create your best life, then this empowering collection package of 14 titles is perfect for you!