Accelerate Fat Loss & Get Fit for Life in 8 Easy Steps
Introduction for the 8-step series Metabolic Weight Loss & Body Tune-UP Tips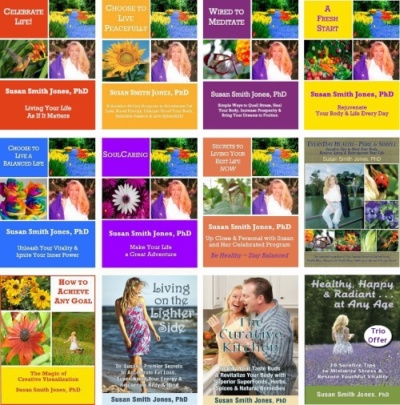 While millions of people starve to death in many parts of the world, the United States has the dubious honor of being the fattest country on the globe, with 50% of us being obese. Meanwhile, Americans are preoccupied with their waistlines. We spend more than 40 billion dollars a year on diet foods, diet programs, diet pills, and other 'guaranteed' weight-loss regimens and products. Yet, according to the National Center of Health Statistics, we're getting fatter all the time. (Throughout my 14-title, life-changing collections — Renew Your Life — I communicate in detail on over 100 topics related to being vibrantly healthy in body, mind, and spirit, including everything you need to know to shed extra weight — easily and permanently.)
Experts call obesity an American epidemic—one that brings with it major health problems. Heart disease, endometrial (uterine) cancer and possibly breast cancer, high cholesterol, high blood pressure, immune dysfunction, osteoarthritis, stroke, gout, sleep disorders, gallstones, and diabetes are all associated with obesity. Because I prefer to see the glass as half full, let's put this in a more positive light: Losing even a little weight may significantly improve your health and well-being.
On the flipside, eating disorders such as anorexia and bulimia are on the rise, and women's magazines are not helping when they continue to use models who look like waifs. Take Barbie™, a doll that's part of most little girls' upbringing. This model of good looks and perfect body is giving the wrong message about what a healthy woman's body should look like. Were Barbie an actual person, her body fat would be so low that she probably wouldn't even be able to menstruate. As little girls treasure Barbie, and teens try to emulate her, she has one accessory that is consistently missing—food. Continue on to find out the control mechanism for obesity, and you may be surprised with the answer.
What is Metabolic Weight Loss?
Surveys indicate that most people are not happy with their weight or the shape of their body. Half of the women and a quarter of the men in this country are currently trying to lose weight and reshape their bodies. The sad thing is that a majority of these people are going about it in the wrong way, the hard way—by dieting, which doesn't work! Throw away diet books that tell you that you can lose weight and keep it off without moving a muscle. They're rip-offs. Dieting is not the cure for excess fat. After you finish a diet, you may have lost some fat, but you haven't lost your tendency to get fat.
The control mechanism for obesity is not diet, it's muscle metabolism. Your basal metabolic rate is the rate at which your body utilizes energy. Put another way, it has to do with how efficiently you body burns calories. Calories are the measuring unit of heat energy. When metabolism is higher, you burn more fat and have an easier time losing weight (fat) or maintaining your ideal body weight. You can feed your muscles the best food and vitamin supplements in the world, but if they're not tuned up—if they're not exercised—they won't burn up the calories in those foods. As you age, if you don't continue to keep your muscles exercised, your metabolism slows down and you'll gain weight more easily than you did when you were young. Exercise is the key to controlling metabolism.
Two out of three people who to on a diet will regain their weight in one year or less; 97% will gain the weight back in five years. To make matters worse, a majority of dieters who lose weight will gain back even more fat than they had before they started the diet. They have all violated an important rule in creating and maintaining a healthy, fast metabolism: they lost lean body mass, or muscle. An overweight person needs to retrain his or her body so that it burns up ALL the calories it gets, storing none as fat. Yes, she may need a diet at the start to help break bad eating habits, retrain her taste buds, jump-start her metabolism, and lose some excess fat.. But long-term weight control requires a change in body chemistry so you won't get fat all over again. And EXERCISE is the only way to change your metabolism so that your body converts fewer calories to fat. You need aerobic exercise to burn the fat out of your muscles and then add weightlifting to build up your muscle which, in turn, increases metabolism. This increase in muscle mass results in metabolic weight loss.
In my following blogs under this heading of Metabolism, Fitness & Body Tune-UP, I will highlight some of my gold-star secrets and tips to assist you in ramping up your metabolism, selecting the right exercises and foods, and making the best choices for creating a fit, healthy body — for life.
---
FYI: Are you interested in transforming your life from a "spin-cycle" lifestyle to a "win-cycle" lifestyle? If so, then Renew Your Life: Choose to Live Fully, my special Complete Seminar Power Package, is perfect for you. You'll learn how to shed extra weight; reshape and tone your body; look and feel 10 years younger in 30 days; alleviate depression; release addictions; boost energy; detoxify and rejuvenate your body; use natural remedies from your kitchen; ignite your passion for life; achieve your goals in record-breaking time; experience high-level wellness; thrive in your relationships; attract unlimited abundance and prosperity; achieve business breakthroughs; and live with more peace and balance.
It's available at a discount for a limited time. Through Renew Your Life, I will become your personal health, lifestyle, and success coach. For over 30 years, I've been remunerated handsomely as a personal holistic lifestyle coach — imparting my favorite gold-star secrets to only a few select clients each year in America and worldwide. And now, you can have at your fingertips all of my quintessential, life-changing tools to excel in every area of your life. So, if you're ready to live your highest vision and create your best life, then this empowering collection package of 14 titles is perfect for you!