Dark Chocolate Health Benefits and Nutrition Facts
Chocolate: Nutrition & Health Facts
Whether during the holiday season or any other time of year, chocolate seems to be a ubiquitous favorite of many. I thought you would appreciate learning about its benefits so you can savor every bite guilt-free. You will find more detailed information on dark chocolate health benefits in my book Health Bliss: 50 Revitalizing NatureFoods & Lifestyle Choices to Promote Vibrant Health.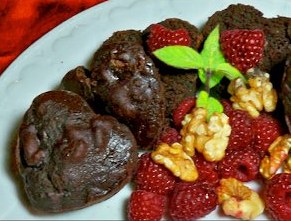 Cocoa, the main ingredient of chocolate, provides an impressive amount of antioxidant flavonoids, which fight heart disease and cancer. In a study published in the American Journal of Clinical Nutrition in 2001, 23 fortuitous subjects added about four tablespoons of cocoa and about 1/2 ounce of dark chocolate daily to an average American diet. The cocoa and chocolate improved their cholesterol ratios and increased the levels of antioxidants in their blood. The plant chemicals in cocoa are also noteworthy. A recent preliminary study published in Cancer Letter found that they prevented the growth of colon cancer cells. In another study reported in the journal Nature, researchers analyzed blood samples from volunteers after they consumed dark chocolate, milk chocolate, and dark chocolate along with milk. One hour later, the dark chocolate significantly increased antioxidant levels. Milk, however, seems to interfere with antioxidant absorption, rendering milk chocolate powerless against disease. Want some studies to support your chocolate desires? Keep reading.
AMA Confirms Dark Chocolate Health Benefits
In 2007, a study published in the Journal of the American Medical Association discussed how just a small amount of dark chocolate, roughly one to two ounces, will help to lower blood pressure and protect your heart. Keep in mind, however, that we're talking ounces, not pounds. And when you reach for this chocolate treat, make sure it's dark chocolate and choose the best quality possible. I usually look for organic dark chocolate.
Types of Chocolate and Which Are Healthiest
All chocolate comes from cacao beans (cacao nibs)—the seeds of the cacao fruit. Processing, cooking, and roasting malign the delicate, complex flavor of the cacao nib. Raw chocolate is a great source of antioxidants—20 times more than red wine, 30 times more than green tea. It's also rich in magnesium, chromium, and vitamin C. And unlike most candy, raw chocolate has a moderate glycemic index, which means that it provides steady energy instead of a sugar rush (and subsequent crash).
Of course, chocolate is high in fat and calories. To maximize chocolate health benefits, choose dark chocolate (and raw sources whenever possible) and limit yourself to an ounce a day. I always have organic raw cocoa powder on hand and use it when making healthful smoothies or shakes, raw pie fillings and crusts, and chocolate syrups and sauces. You'll find a unique recipe for a Chocolate-Sweet Potato Smoothie in my book, The Healing Power of NatureFoods. You'll find raw, organic chocolate powder at your natural food store.
I also use cacao nibs. I blend them into my smoothie, melt them in my tea, or add them to my favorite nutritional beverage; sprinkle them on my "ice cream" (I make it out of frozen fruit); and add them to any recipe instead of using chocolate chips. Kids love them, too! You'll find certified organic raw chocolate (raw cacao nibs) in your natural food store.
If you would like a couple recipes for delicious, moist, and health-promoting vegan brownies, please visit my Healthy Recipes page.
---
Some excerpts were taken from Susan's popular package, Renew Your Life and her Blissful Living 3-book set on healthy eating and living. For more tips on selecting the right foods to help heal a variety of health conditions and making your meals more flavorful and delicious, this trio of Blissful Living books is for you. Also, you also can get one copy of any of Susan's new 7 Natural Remedy booklets FREE (each one includes a CD interview with Susan) when you purchase any of the 3 books in the trio set above, or her latest The Joy Factor and Walking on Air by calling: 1-800-523-9971 (US & Canada) or 215-632-6100 (Intl), both ET, M - F • 8:30 - 5:00.